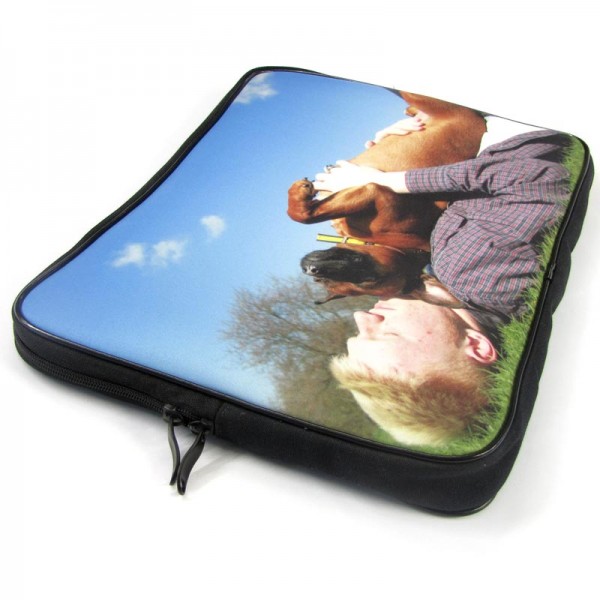 When it comes to Valentine's day gifts, men seem to get pretty left out. If you look at retailers ahead of Valentine's day it is clear that there are not many Valentine's day gifts for him offered. This is kind of unfair don't you think? Valentine's day is about love and relationships and men are part of this love and relationships too. Men too should be surprised and wooed on the official day of love. Make your husband or boyfriend or even your dad feel special this Valentine's day. We have plenty of Valentine's day gifts for him, personalised gifts suit men perfectly;
Laptop and iPad Bag – Let your man show off his love whilst carrying around his essential technical gadgets. The wet-suit style padded laptop and iPad cases protects the gadgets from scratches, dirt and liquid spills.
Wash Bag – Your man will appreciate a stylish leather or canvas wash bag with a cute photo of the two of you. He can brag about his amazing girlfriend whilst at the gym or away on business trips or travels…
Photo Canvas – A high quality photo canvas will a romantic photo or several of them (a photo montage) will be much appreciated and it will improve his home interior. Add a bit of love to his home!
Banksy Photo Canvas – The Banksy photo canvas is a Valentine's day gifts special so that you and your man can be part of a cool Graffiti style image on photo canvas. Sealed with a heart and tag!
Photo Blanket – The ultimate personalised gifts for spending quality time with each other are our designer bedding items with the soft cuddly photo blanket in first place. A safe bet for a romantic Valentine's day.