Printing Tapestry Canvas
from

£19.50

If you are an embroidery tapestry or needlepoint enthusiast, we can print any image on our needlepoint tapestry canvas. Stitch over the photo tapestry print for a stunning new twist to both tapestry and photo imagery. Small to super sized possibilities are right here. Order online by uploading your photo and selecting the canvas size you would like.
Pay after delivery

Add another and save....
Photos On Tapestry
Polycotton canvas, 10, 12, or 14 Needlepoint counts Monofil only
100% cotton Aida cross stitch 14 count,184 gsm
Full colour printing
You decide the print size, you choose dimensions
Colour map not provided. Sew over print colour
Reviews for
Tapestry
Very speedy service

My order for a printed embroidery canvas was completed very quickly and the quality of the reproduction is very good. The canvas is a little on the stiff side but it should make a good cushion pad for a dining chair. Only another two to go...

Just like the photo

Tapestry canvas just like the original photo, very prompt delivery. Only criticism I would have is the canvas is very stiff and can be difficult to handle but that's very minor criticism

Excellent tapestry

Very well made product and good service

Brilliant service

I had a picture transferred onto a tapestry canvas. Very quick and efficient service and great end product, thanks
Photo Tapestry Printing
We print onto polyester coated cotton tapestry canvas, as well 100% cotton fabric which is perfect for natural fabric aficionados; available in 10, 12, 14 and Aida 14 count sizes, with an interlocking weave. We only print on white fabric to preserve the image definition.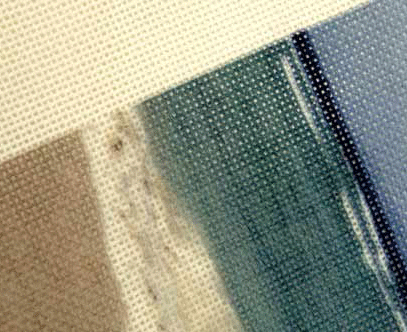 Needlepoint Canvas Information
There are several types of craft that involves needles, thread and canvas such as embroidery and needlepoint. The differences between these three needlecrafts are as follows:
Embroidery designs are stitched into fabric with a close weave. The design is printed, and the stitcher follows the pattern with needle and embroidery thread.
Needlepoint stitches cover the entire fabric.
Needlepoint is also known as canvas work, especially in England. Photos or images can be a brilliant way to create new tapestry designs.

Fabric Info
Needlepoint canvas is usually polyester coated cotton or linen although recently plastic "canvas" has grown in popularity. Needlepoint fabric is stiffer than that used for embroidery or cross-stitch. Our tapestry is made with cotton canvas, as well as 100% cotton in a block weave – it is one of the most popular types used for embroidery and especially suited for beginners. The defined holes in the fabric is best for regular cross stitch, half stitch, and back stitching. Fractional stitches (1/4 and ¾ stitches) it becomes slightly more difficult to use with standard tapestry wool. The material is flexible enough to bend and fold easily, that is why we recommend to use a frame for better handling.
Thread Info
As a rule, you should usually use two strands of floss for our personalised tapestry fabric in counts 12-18. Tapestry wool is suitable for canvas counts between 10 and 14. For finer details in the photo tapestry, we suggest using Persian yarn or Crewel wool. Persian yarn is usually made of three strands of Crewel wool twisted together; it can be split into individual strands easily. Crewel wool is very fine, made of two spun fibres twisted together. As stated above, when sold as thread it usually contains two or more strands.
TIP: If you need extra space around your design (framing, stitching, etc), make sure to add this white space within the design interface as we strictly print the dimensions selected on the design interface.
As the tapestry fabric is coated cotton with several holes on it, it is important to use darker/ high contrast images to make sure that the final print is clearly visible and easy to sew on. White or light-coloured images will result in a faint print that will be difficult to work with.
You may also like: