Care instructions
Surface wipe only. Clean gently by hand with mild soapy damp cloth.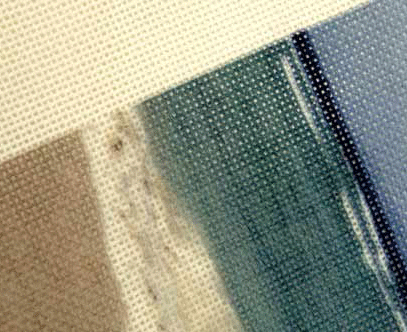 Needlepoint Canvas Information
The differences between embroidery and needlepoint needlecrafts are as follows:
Embroidery designs are stitched into the fabric with a close weave. The design is printed, and the stitcher follows the pattern with needle and embroidery thread.
Needlepoint stitches cover the entire fabric.
Needlepoint is also known as canvas work, especially in England. Photos or images can be a brilliant way to create new tapestry designs.

Fabric Info
Needlepoint fabric is stiffer than that used for embroidery or cross-stitch. Our tapestry is made with cotton canvas, as well as 100% cotton in a block weave, it is one of the most popular types used for embroidery and especially suited for beginners. The defined holes in the fabric are best for regular cross stitch, half stitch, and backstitching. Fractional stitches (1/4 and ¾ stitches) it becomes slightly more difficult to use with standard tapestry wool. The material is flexible enough to bend and fold easily, that is why we recommend using a frame for better handling.
Thread Info
As a rule, you should usually use two strands of floss for our personalised tapestry fabric in counts 12-18. Tapestry wool is suitable for canvas counts between 10 and 14. For finer details in the photo tapestry, we suggest using Persian yarn or Crewel wool. Persian yarn is usually made of three strands of Crewel wool twisted together; it can be split into individual strands easily. Crewel wool is very fine, made of two spun fibres twisted together. As stated above, when sold, the thread usually contains two or more strands. You can get threads from your local haberdashery or thread shop.