From £15.50 psm inc vat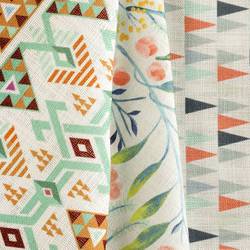 Spoilt for choice? Try it out!
Try it before you buy!
Click here to order a 21cm x 15cm sample
>Fabric Reality Check! Please allow a degree of shrinkage per fabric due to the processing techniques required to make a great print. The shrinkage degree varies fabric to fabric but can be as much as 8%. Average 2.5 %. We do not use Pantone colours or offer any colour matching but we do have great colour ability (we are pretty good/accurate on pantones). There are occasional variations in fabric weave that are a characteristic of textiles and should not be classed as defective unless extreme. Each textile can have minor colour variation from one to another. It is unlikely to be a true likeness to compare your screen or your printer output to printed fabric unless you have a calibrated monitor, and there are fabric printing limitations to take into account.
Print Your Designs On Fabric
We are a London based fabric printing company where you can create your own fabric. Digital printing on fabric is our service. Have your own pattern, illustrations or textile designs custom printed in a matter of days. Our digital printing on fabric design interface will allow full-width roll textile printing or just one-off custom-sized panels printed on a wide variety of fabrics.
Sample A5 Textile Prints Of Your Design
You can get your own sample printed so ideal for checking before you commit. Your image on your choice of textile from our wide range of specialist fabrics. Select the material, and upload the design for an A5 print on one, or several textiles from our range. For test print samples click here.
Homeware Custom Textile Printing
Customised textile printing is ideal for the creative homemaker to print wall hangings, drapes and home prints. Our digital printing on fabric is perfect for the professionals who need a short run, for a one-off set design one-off or a retail space textile drape. We can produce with fire-rated fabric too if needed.
Fabric Printing In London And Fast
All our fabrics are tested to be excellent for long-lasting textile printing with dye sublimation in London. You can set your design area to these dimensions per textile. Choose the correct textile for you from our range in the next order screen. Test prints on our textile available starting at an A5 print of your graphic. Print your own A5 sample.
Grain Direction For When You Plan Your Fabric Printing
We print your artwork in the orientation that you design in our online preview. Imagine the preview is a roll of fabric running from top to bottom, the width of the roll is left to right. This is especially important for fabric destined to become clothing as the stretch on our jerseys runs across the width of the roll. If you make the width wider than the fabric selected we rotate by 90° in order to fit it on the roll so planning your grain direction can be important.
How Would you Like the Edge?
We have four finishing options for your fabric order:

As it comes. We cut around your image, leaving a simply scissor cut, perhaps uneven white fabric border.

Hem with thread. We can hem your fabric with a choice of black or white thread. Please allow one to two days additional production time. See below for information on how hemming affects the size of your print. We offer either a folded hem (single or twofold dependant on the fabric) which uses a straight stitch and an overlocked hem - which stitches over the edge of your material. Some fabrics will work better with one particular hem type, and won't be compatible with the other - for those you will only be given the suitable option. If you see both options, then it's down to you which you would prefer.

Cut on the line. We will cut neatly on the edge of your image. Please be aware, when we cut along the line, we have to cut against the grain of the fabric. This is the standard procedure for fabric cutting. This means that with some fabrics, for example, Georgette and Mulmul, which have a slight wave in them, some fraying will occur. This is unavoidable, as the cut follows the grain of the textile.
All of our fabrics are cut manually by hand, with the utmost care and attention. If your fabric has a slightly uneven look on the edges or a touch of fraying, this does not indicate a flaw in the textile. It is not always possible to achieve a perfectly straight cut with certain fabrics, so please do bear this in mind when it comes to your design. If you have any queries or would like to know about our cutting methods in more detail, please get in touch and we will be more than happy to discuss them with you.
Digital Printing on Fabrics Which are Natural
Please be aware that when digital printing on fabric that is 100% natural, colours will appear slightly muted, creating an authentic 'washed out' look. Colours and details still print exquisitely but due to the natural fibres, they are less intense than poly or poly-blends. We suggest increasing the contrast of your image, opting for our poly-blend Silk Sensation or ordering a swatch pack of all of our fabrics for a real, hands-on feel. This way, you can clearly see how colours turn out on different materials.
Sizing For Hemming And Shrinkage
We have a full-service cut and sew operation here at Contrado the home of Bags of Love. For these fabric prints, we can add a hem if you wish for a small charge. (Please allow here an additional one to two days of production time.) We create a small one or two fold hem that typically uses 5 mm to 20 mm of material depending on the thickness of the fabric. So, for example, you could order 100 cm x 100 cm, so expect your fabric to be approx. 98.5 cm x 98.5 cm after hemming (please allow for the hem and on top of that please also allow for shrinkage of a minimum of 2%). The thicker the fabric the bigger the hem will be. We have black or white thread that you can choose. On our silk and other light woven fabrics, one hemmed edge will be straight (vertically down the roll) and the other will be slightly rippled. The hemming material allowances are as follows and you need to make your print bigger to accommodate the hem:
Light fabrics like silks we use 6-8 mm in the hem (twofold), so width/height will be minus 12-16 mm
Medium fabrics that fray, we use 15-20 mm in the hem (twofold) so width/height will be minus 35-40 mm
Stiff/heavy/no-fray fabrics we use 15-20 mm in the hem (single fold) so width/height will be minus 35-40 mm
All of these measurements are approximate and can vary. Including with shrinkage, it can mean a fairly significant difference to ordered dimensions so please plan your print accordingly. Depending on how open the weave is, our fabric can shrink anywhere from 2% to 8% with the average being 2.5%.
Please be aware that for hemming, your fabric dimensions need to be at least 30 cm x 30 cm.
Tiling Patterns On Textile
It is also possible to repeat patterns in a tiled effect for your fabric print run in our design system. We make this easy for you with our tools. You can also prepare your document beforehand to allow the tiling in the desired repeat and scale you need, then you can upload the file. There is a video above on how to tile your pattern in our free easy to use on-line fabric print design software.
Guarantee: Three-year guarantee on fabric structure on all materials. Three-year print guarantee on dye sublimation textile printing for HD colour (excludes natural fibres printed with pigment)
Discount
To receive your wholesale discount on fabric printing, please get in touch with our customer service to get more information on applying for a wholesale account.