Personalised Wallpaper
from

£19.00

Make your own personalised wallpaper with photos. Create unique bespoke printed wallpaper with your own pictures, design or photo collage. Turn a blank wall into a feature wall. Design personalised wallpaper and have it custom printed. Press start design, enter your wall dimensions, upload the photos, and we send your precut wallpaper drops in a few days.
Ready in 1 - 2 day(s)

Production time: Ready in 1 - 2 day(s)

Delivery time: 1-3 days, several options available.

We are fast, and print most products in one day if you order before 12:00pm. Excludes delivery time.

Made in UK

Made in UK

Lovingly made in the UK by our talented artisans here in London.

UK delivery: £4.99

UK delivery: £4.99
Western European: £14
Other European: £16
North America: £16
Australia / Japan: £22
Rest Of The World: £22

Add another and save....

Add another and save....

Quantity discount
Create photo collage Wallpaper

>
Automatic Photo montage
Create your montage in 5 easy steps!
1 Press Start Design and select product options
2 Upload your photos
3 Click and select photos to montage in the gallery
4 Select montage style & preview
5 Add to design, preview product and proceed to buy!
Need a bit more help?
Don't be shy, it's a whole new concept!
Contact us and let us explain
Too many photos will result in very small images, so we will advise a maximum number of photos per product size. Contact us if unsure.
Custom Printed Wallpapers
Solvent free, odorless, eco friendly
Free collage maker app generates collage
3 wallpapers, non shiny, matte feel
No minimum order
Guaranteed 10 years*
Order a sample
Order a small sample of your design, or choose from our pre-designed colour charts.
Print paper sample
---
Reviews for
Photo Wallpapers
Wall Paper

Had a picture enlarged to 2.4mtr x 3mtr for a wall very with the results. Service was excellent. Very reasonable price. Would recommend

Great...

Our own photo transferred onto wallpaper. Great product, great service....

Pleased

better quality than i was expecting, happy with service

great service and great quality

Order received fast. Very good quality I am very happy with my order and I will definitely use this service again
Custom Printed Wallpaper: How it works
We offer a unique wall covering product, available at any size, suitable for wallpaper borders, murals or as full wall covering wallpaper. Your overall wall size is broken down into sections and wallpaper is supplied as separate drops that butt up together. The personalised photo wallpaper is hung in the same way as conventional wallpaper, and full instructions will be provided with your order. Normal wallpaper paste like Solvite Extra Strong or Murabond work well on our standard paper, and you can select spray the wall for our premium ready pasted paper.

Step1: Measure up.
Use a tape measure to measure the width and height of your wall. If the area is over 1m wide or high we recommend repeat measuring at 1m intervals (as your wall's may not be totally straight). Take the largest width and height, then add 8cm. This gives you 4cm bleed/extra fabric to trim off after you have installed your wallpaper, ensuring your wall is totally covered.

Step 2: Upload your design.
Upload your image, enter your dimensions into the width and height boxes, then position your image until happy. If our low quality warning appears try scaling your image down, or adding a tile effect.

Step 3: Choose your material.
We offer 3 types of wallpaper.
Standard: Our standard paper is a textured matte finish non-tear paper. With permanent print and good print quality. Paste the back of the wallpaper then hang. 10 year guarantee. If covering a dark coloured wall a lining paper or coat of white paint is recommended.
Key Features:
Strong and durable non-tear paper.
Water based inks.
Wipe clean with damp sponge.
Eco paper, with no solvents or odours.
Tough, scratch and abrasion resistant.
Premium: Water activated, Matte finish, lightly textured. Spray the Wall installation (simply spray the wall, then hang your wallpaper, sliding into place). Permanent non-fade print, 10 year guarantee, super sharp print quality, opaque paper.
Key Features:
Pre-coated with adhesive, simply spray the wall and position. No need for paste.
Fade resistant 10 year guarantee.
Wipe clean with damp sponge.
Opaque.
Fast and clean installation time.
Water based inks.
Odour free, certified ECO-print, suitable for any space, including hospitals.
Tough, scratch and abrasion resistant.
Textured: Quick and easy to apply, matte, textured finish. Tear-resistant and easy to clean. Paste the wall application. Permanent non-fade print, 10 year guarantee. Sharp, high quality print.
Key Features:
Paste the wall, not the paper, meaning no need for paste table etc.
Quick and easy application, paste the wall, not the wallpaper.
Can be easily removed when dry, without damaging walls (if the walls are prepared correctly before hanging).
Strong, tear resistant construction.
Breathable formulations, resists mould and mildew.
Washable using mild soap and water.
Bio-Proof, special formulation prevents bacteria or mould growth.
Suitable for bathrooms.
Step 4: Conclude your order
Complete your order, within 1 to 2 days our design team will email a layout proof, splitting your image into an optimal number of drops. We wait for your approval, then start printing when you say so. Download our full hanging instructions here.


10 Year Guarantee: The print/colour fastness is guaranteed for 10 years in optimal conditions (not in direct sunlight). The material itself, if installed correctly and the walls remain in a good, dry condition, is also guaranteed for 10 years.

Custom Printed Wallpaper For A Feature Wall Using Your Photos Or Collage On Wallpaper
Scaling your photos up to cover the entire surface of a wall with custom personalised wallpaper will lift your living space to a new level. Use Contrado photo wallpaper to create a feature wall in your home or business that's guaranteed to have a huge impact. Print any image or pattern you like, or even create a montage of treasured family photos.

Our special image-printing wallpaper is a bright matt material with exceptional print quality. The material has a soft nubuck feel to the surface, and is super strong- so no need to worry about tears and rips. We use only eco-friendly water-based inks, and no dot-matrix patterns as we use continuous tone printing (3,000dpi equiv.). Our bespoke wallpaper is used by Maharishi, Harvey Nichols, Paul Smith shop interiors, and several ITV sets; and of course, it's used and enjoyed in living rooms, bedrooms and public spaces across the land. Ideal for use in busy passageways and high-traffic corridors like hotels and universities as it won't tear or scruff. Great fun for kids bedrooms, or as a feature wall in a dining space.
How To Price Your Personalised Wallpaper
Measure your chosen wall accurately. We price by the square metre, so if your wall measures 3m x 3m, you'll need 9 square metres of wallpaper. Press start design above, add the dimensions X and Y of your wall to our system, and we will price the area in our system for you. We plan out the drops and width of the your paper rolls, as well as applying bleed areas, and trimming your design so there are no white spaces or borders.

Once you've set your dimensions, simply upload your images and place using our online design system. We'll take care of the rest, and our artwork team will check your images before we print for any obvious mistakes.
Wallpaper Details And Features
The details and features of personalised wallpaper will do wonders on your home interior. Both our papers are wipe-clean friendly and scratch-proof, so are very suitable for busy family homes. You can have custom wallpaper in days that will brighten up your living room, dining room or kitchen for the whole family to enjoy.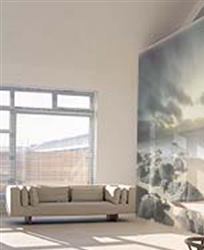 Why Not Try a Photo Montage Wallpaper?
One of the great things about custom printing personalised wallpaper is that you can print whatever you like.

With such a huge space to cover, your images are going to appear very large: so why not consider printing a large montage print to show off your treasured collection of family photos? We design your collage automatically in our system, so it couldn't be easier.
Printing Your Photo or Map on Wallpaper
Photo wallpaper can turn your child's room into an imaginary fantasy land, give your new business a friendly and approachable look, or transform a hallway to a chic space. Use photos from holidays, photos of city skylines, maps, landscape photos and portraits to make imaginative custom wallpaper that will create innovative and exciting spaces for indoor and annex room design purposes. Map wallpaper is attractive and can capture your local area: or you may even find vintage maps that can be printed in your town archives or local library.
Personalised Wallpaper Borders Also Available
Make your own personalised wallpaper borders too. Great for kids room wallpaper. See our personalised wallpaper borders.
TIP!: We are here to advise if there is anything you need to discuss before installation. Once the material has been applied to the wall, the product is deemed accepted and cannot be claimed as defective due to variations in mounting, adhesives, handling, and local environment (including humidity, heat, weathering). Once you decide to cover the wall, we cannot be held liable for preparing or pasting wall. Please note: Whilst it may be possible to use on ceilings, we recommend using your wallpaper exclusively on vertical walls to get the best guaranteed finish.
You may also like: