Photo Tea Towels
from

£14.00

Design a photo tea towel printed edge to edge and sewn to order. Use our personalised tea towel printing service for a modern tea towel gift for dad, granny or fun gift. Create a drying up cloth you design. Write your recipe, add a design then print with us, or make perfect teacher end of year presents. Full colour tea towel printing.
Ready in 1 - 2 day(s)

Production time: Ready in 1 - 2 day(s)

Delivery time: 1-3 days, several options available.

We are fast, and print most products in one day if you order before 12:00pm. Excludes delivery time.

Pay after delivery

Pay after delivery

You may pay after delivery for your order with our partner Klarna payment if eligible at checkout.

UK delivery: £3.99

UK delivery: £3.99
Western European: £12
Other European: £13
North America: £14
Australia / Japan: £15
Rest Of The World: £16

Buy 2 Add 1 Free

Buy 2 Add 1 Free

Quantity discount
Create photo collage Tea Towels

>
Automatic Photo montage
Create your montage in 5 easy steps!
1 Press Start Design and select product options
2 Upload your photos
3 Click and select photos to montage in the gallery
4 Select montage style & preview
5 Add to design, preview product and proceed to buy!
Need a bit more help?
Don't be shy, it's a whole new concept!
Contact us and let us explain
Too many photos will result in very small images, so we will advise a maximum number of photos per product size. Contact us if unsure.
Make Your Own Tea Towel Dish Cloth
Choose from split microfibre or cotton-linen
Wavy ric rac edge option in 4 colours
High grade printed tea cloth sewn to order
Create a montage tea towel with up to 20 pics
70x50cm printed edge to edge *2 yr guarantee
Reviews for
Personalised Tea Towels
Great quality gift

Bought a printed tea-towel as a gift. Picture quality excellent, nice fabric and arrived super fast. I can highly recommend this company

Teatowel of memories

Excellent product - quality material and great reproduction of photos - Faultless service, as always.

Gorgeous and quality

Cotton linen tea towel of an image of a water colour I painted. It looks amazing!

Brilliant

Tea towel was delivered within a few days of order being placed. Quality was excellent. Had two really old photos printed on it and the quality of photos were superb. The photos were black and white and the detail on them was absolutely brilliant. Sounds recommend to anyone.
Split Microfibre Tea Towel
Our microfiber tea towels are different not just because we print full colour images edge to edge on a modern material then sew it up, but because this new amazing textile has some unusual qualities. First, it's light and soaks up water. Secondly it dries out fast, and thirdly it leaves no fibres. A microfibre tea towel is made of a high tech modern woven material famous for its excellent absorption and fast drying speed. Try drying a glass with it. No streaks or fibres remain. But if you want the traditional feeling tea cloth this is not for you!
100% Cotton-Linen Tea Towel For Drying Up
Alternatively, you can choose our quintessential British tea towel made from natural cotton-linen fabric for 2nd anniversary gift or other idea. A blast into the past, this beautifully printed tea towel is like the School tea towels your kids bring home, but full colour photo print quality and fantastic soft cotton-linen. Light weight, so not for the sloppy dish washer, but still a tea towel of considerable drying power. A 100% natural blend of cotton & linen and printed all over, this dish cloth tea towel is made from pesticide free natural yarn that has a lower environmental impact than paper towels and will last for years to come. Our custom cotton tea towel is machine washable cold (delicates), or better still hand wash. They do fade and get wrinkle lines.
Multi Purpose Tea Towel Uses - 3 in 1 Product *
We hear great things back from our customers about what they do with our tea towels. We had no idea they are so versatile and drying up is not their only purpose. Some of the things we get to hear about are great. For example many people say the cloth is too good to use for menial tasks and they use it for tea cloth wall hanging, kitchen wall art, tea table runners, computer monitor covers, and dining table display with fruit bowls. Wow, we could go on but at the very least is is a 3 in 1 product. Let us hear your uses for the great British tea towel (the rest of the world don't do tea towels by the way).
Care: Cotton-Linen tea towel: machine wash cold (delicates setting), or better still hand wash. Dry flat. Cotton-Linen print does fade and get wrinkle lines the more you wash.
Microfibre tea towel: machine washable 30 deg C dries fast
Guarantee: *Sewing and textile guaranteed for 2 years. Cotton fades with washing so we cannot guarantee against fading except for the Microfibre version which will not fade and we guarantee for 2 years.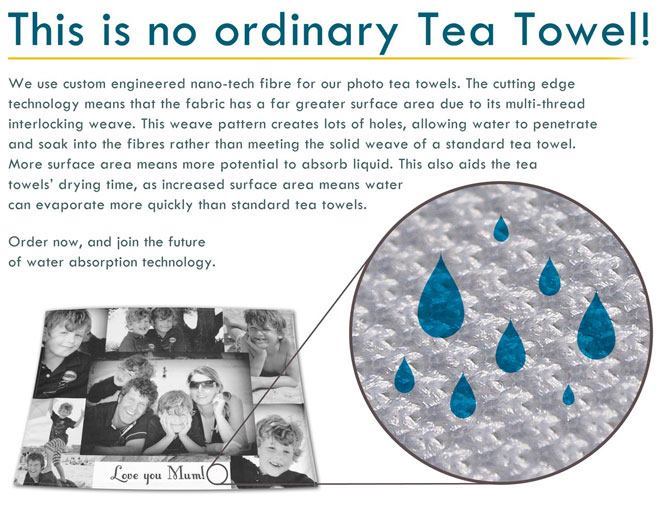 Why Print A Tea Towel?
Traditionally a tea towel would be a cloth that was kept in the kitchen. It has had many uses. The baking mums would use the super dry cloth to cover just baked cakes (yummy!), or cover tea pots to keep them warm, and perhaps the most famous task of all was drying the dishes. It has lost out a bit to the dishwasher, but still this very useful cloth can be found in British kitchens up and down the land, but now we can personalise them. Most grandparents and parents know the tea towel very well! Fortunately the tea towel makes a serious come back in this day and age due to the opportunity to print and make your own tea towel allowing humour, design, photos and any graphics you want printed on your own tea towel to make a great gift idea for mum, dad, grandparents and friends. What is a tea towel? It's a British cultural icon! And we print and sew them here in London, one at a time. Some of our most recent ideas have been recipes hand written scanned and printed and kids art. They all look great and man something special too.
Special Tea Cloth For You Or Friends
There is something homely about the humble tea towel. That cherished handy cloth that is displayed in the kitchen can be made more of a centre piece. You can use our tea towels for adding a little fun to kitchen chores like drying dishes, mopping up spills, and as decoration on the rail. Because you design your own personalised tea cloth you can cater for everyone.
Your Own Royal Tea Towel
When Kate and Wills got hitched, the world of tea towels blossomed yet again. People love the royals on tea towels so if you are tempted to make your own royal cloth then you can, right here. You can design your royal tea towel as you see fit in any way you like. If you get inspired by the royals, you can add photos of the royals or mimic them with your own alternative royal tea towel ideas. Did you see them on walkabout? Have you got any photos of the royals? You can add them and design your own layout on-line with text to make your own royal wedding tea towel. Or you can spoof it too! Use your own family photos to make a royal wedding tea towel for fun.
Tea Cloth Printing In Heart Of London UK
There is not much tea towel printing in the UK any more. Even if you see Big Ben or Beefeaters tea towels at the Tower of London chances are that it was made in a distant land. Here, at Bags of Love we print and make everything here in London. So tea towel printing UK is at your disposal. Get inspired and create your own UK personalised cloth towel. Delivery in 1 -2 days for a UK tea towel, and it's often next day delivery.
Personalised Family Tea Towels
Make your own tea towel or personalised tea towels with photos words or text. Make your own design in our on-line design system and enjoy the creative tea towel design experience we offer. Create personalised tea towels with Bags of Love as a special gift idea for someone.
Bags Of Love Tea Cloths
Print your photos on tea towels. Our tea towels will accept a beautiful photo print. You can add words too. The processed photo tea cloth is deep fibre printed and means it can be washed, and it also means it will soak up water unlike most other photo tea towels. Design your own tea cloth for a show, event, or personalised gift for someone special.
Create Custom Tea Cloth For Friends and Family
If you like to make customised and bespoke products then this custom teal towel is a great choice. You design it on-line, then we print the textile, then we cut it and hem on all four sides. Make something out of the ordinary and design personalised tea towels for your relatives. Short of gift ideas for someone? Why not make your own personalised cloth and present it as a special gift, perfect for teacher end of year present!
Uses For Tea Towels
Tea towels are incredibly versatile. You can cover a meal, use as a place mat, take on picnics, have as a decoration on the shelf or inside cabinets, serve warm bread under (Bags of Love favourite!), or use as a table runner. You can of course use them to dry fine china and glasses. Our tea towels are excellent for drying wine glasses and leave no fibres unlike most regular tea towels. We may have the most high tech tea towel ever because it is digitally printed, and is made of high tech fibres with minutes holes in the core of the fibre that soaks up the water.
Microfibre Gives Superior Drying and Print
We chose our microfibre material specifically because it has better soaking up properties, faster drying time, and superior print over other tea towel textiles. They don't leave fibres behind on the dishes either. A good test for it is if you dry wine glasses you get a very quick soak up, wicking or drying effect without fibres sticking to the glass.
It may feel different but technically it's superior..... we prefer not to think of our tea towels as sodden - we want them to stay fresh, light and effective forever.
Guaranteed: 2 year guarantee on material and stitching finish. Cotton will fade so no print guarantee on cotton but 2 year guarantee for print on microfiber.
Please note: A small barcode will be printed on the reverse side of the tea towel, but this will not affect the quality of your tea towel.
You may also like: