Valentine's Day is a wonderful excuse to show your special someone just how much you care.
Nothing shows love more than personalised gifts, as they truly do come straight from your heart. If you want to treat your girlfriend, wife, mother, grandma, good friend etc to something, which they will cherish forever, then we have some wonderful suggestions of unique photo gifts she will love.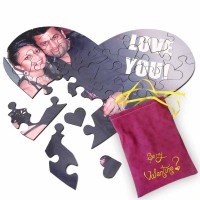 Our Heart Jigsaw Puzzle is a fun and unique Valentine's Day gift. The perfect way to show off your favourite photo of the two of you together! You can have fun putting the puzzle together and then display it proudly for everyone to see. Our Heart Jigsaw Puzzle comes in a sweet keepsake pouch, which makes this gift all the more special.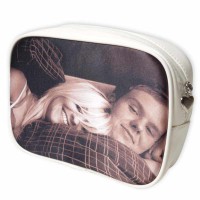 If you wife or girlfriend loves make up, then why not treat her to her very own Personalised Make-Up Bag? Our make-up bags come in leather or vinyl and a gorgeous silver heart charm at the zip – making it very appropriate for Valentine's Day!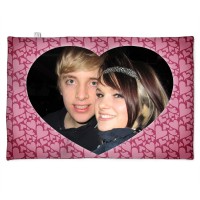 Keep your love warm on this special day, and all year round with our very special Blanket of Love. A truly heart felt gift, our handmade Blanket of Love features a gorgeous heart print and then you can choose your favourite photo of the two of you and some meaningful words, which we will print onto the blanket. She can truly wrap herself up in love with this photo gift.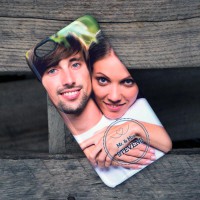 Is your other half obsessed with her new iPhone 6? If she is, make sure when she uses it, she still thinks about you! Our custom printed iPhone 6 case has a unique wrap around design, so your photos wrap all the way around the cover. So now, even when she is texting other people, you (well…your photo) will be right with her too!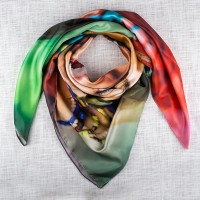 If you want to give your sweetheart a very special gift this Valentine's Day, then our Real Silk Scarf is perfect! Stylish and beautiful, our handmade silk scarf can be printed to feature your photos or a design you love. This really is an accessory she will want to wear every day and, as it was designed by you, it makes it all the more wonderful.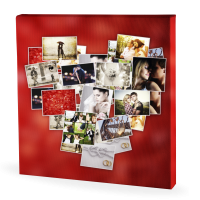 Create a piece of art for her this Valentine's Day. Our Heart Montage Canvas is a fun and unique canvas to hang in your home. Simply choose your favourite photos together – if you are married, then wedding photos look stunning, otherwise just photos of your best times together – and our online design system will display them in a scattered heart shape on the background of your choice!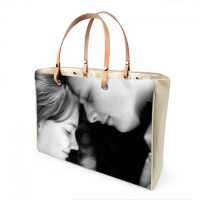 Does your girlfriend have a bit of an obsession with handbags? If so, then she will love to receive our Luxury Photo Handbag for Valentine's Day. Designed and made by us, all you have to do is choose a photo…or several and your bag's colour and finish and we will create something one of a kind for her. The perfect size to carry all of her essentials, this will be the only bag she will want to wear.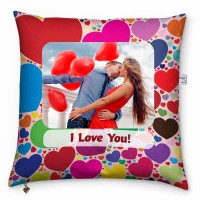 If you are a big softy, then give her a gift this Valentine's Day, which shows it! Our adorable Photo Cushion of Love is available in 5 different gorgeous designs, which will show off your chosen photo of the two of you together and your message of love beautifully. With a little silver heart charm zip puller, this really does make the perfect Valentine's Day gift for any woman.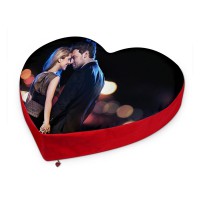 Give your favourite girl your heart this Valentine's Day with our Photo Heart Cushion. She will love hugging this big heart shaped cushion, finished off with a photo of you together…or just you! A personalised gift from the heart (literally)!
Do you want to give a Valentine's Gift with a difference this year? Then why not treat her to our Personalised Double Deckchair or "Lovers Deckchair." Just the right size for the two of you to snuggle up on. You can upload one special photo or your names (so you know which side is yours!) This personalised deckchair looks fab indoors and in the garden…when it gets warmer of course!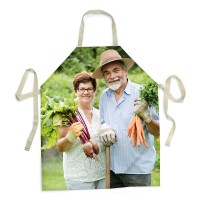 Is your Valentine a bit of a chef? Someone who loves to cook and is a whizz in the kitchen? Then maybe she would enjoy receiving her very own Personalised Apron. We print your photos deep into the fabric, to produce an apron of outstanding quality and beauty. Now, make sure you kiss the cook!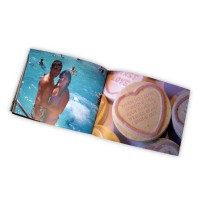 Our Book of Love makes a truly gorgeous and loving photo gift and we guarantee she will love unwrapping it and reading it on Valentine's Day and every day after! Choose your photos and your words and create for her, her very own book filled with love from you about your journey together. A lovely and sentimental gift. We hope these Valentine's Day gift ideas have given you a little inspiration as to what to get your special someone this Valentine's Day!
Bags of Love x