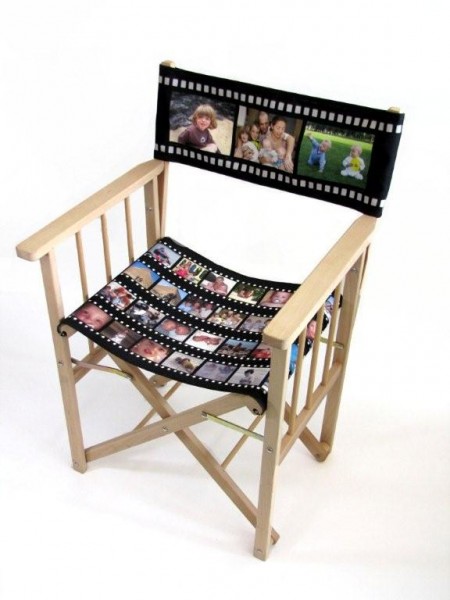 Photo furnishings for him
If your hubby, brother, son, granddad… (any man in your life!) loves his films, why not get him the personalised directors chair to make his day and give him a taste the glitz and glamour of Hollywood? OK, so it's not the real thing. But there's no harm pretending, right? The directors chair is portable and collapsible so he can take it with him to picnics, concerts, football or cricket matches, camps, or any outdoor activity! Customised with your choice of text and/or photos and made from FSC certified wood, these photo furnishings are perfect for the film fanatic man. Comfortable and very stylish, photo furnishings couldn't be easier to design online with super fast delivery! Alternatively, you could go for the smaller version, the folding stool chair, which is very compact and can be transported almost anywhere for a comfy seat on the go.
Photo furnishings for her
Roller blinds are the most beautiful photo furnishings, especially when personalised with your very own photos. Let the laughter and enjoyment of your most precious snaps be transformed into high quality, professional photo furnishings to give a bit of zing to the woman' home. They are ready to hang upon delivery and they will add some fun to her home décor in a very elegant and unique way. She could put them in her bathroom to add some zest to what is often the most boring room in the house. Don't be afraid to give a colourful, vibrant present – she is guaranteed to love it! Fantastic photo furnishings that are inexpensive, lasting, and totally heartfelt.