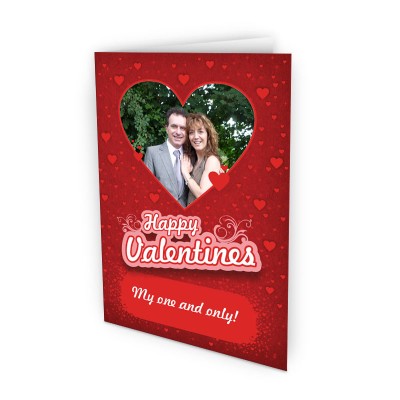 With Christmas only a couple weeks away, you must think us crazy to be preparing for Valentine's Day. Our rebuttal: Christmas and Valentine's Day are both holidays of love, and perfect opportunities to express love through giving. Also, if you are on top of your A-game and already have your Christmas shopping done, then it's never too early to consider those invaluable Valentine's Day gift ideas. Instead of searching for the usual Valentine's Day gift ideas, this year make personalised photo gifts for your Valentine at Bags of Love! Whether you're giving to your sweetheart or all your beloveds, they will appreciate and be truly impressed by any of your thoughtful Valentine's Day gift ideas.
Personalised Valentine's Day Cards
Valentine's Day cards are the most common way people express their love on February 14th. However, this year give personalised Valentine's Day cards with a photo of you and your loved one printed neatly on the cover. In the same way you do not settle for love, do not settle for a mundane Valentine's Day card! Create only the most memorable personalised Valentine's Day cards that express your unique love.
Banksy Valentine Photo Canvas
If your Valentine appreciates artistic expressions of love, then a photo canvas just may be the perfect Valentine's Day gift idea! By simply selecting and uploading your favourite photo memory onto Bags of Love's easy-to-use online design template, you can transform your original digital photograph into a Banksy masterpiece. Whether you prefer to graffiti your romantic image onto a canvas print with a brick or aluminum background, we guarantee that you will be pleased with Banksy's beautiful and edgy Valentine photo canvases.
Cushion of Love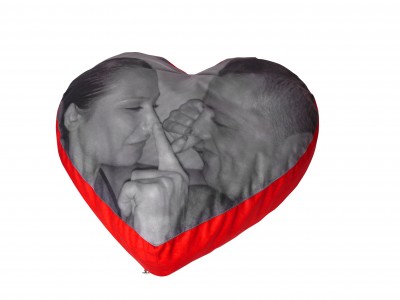 Looking for something for you and your special someone to cosy up next to on Valentine's Day? Our personalised Cushion of Love is a romantic and decorative gesture to add to your Valentine's Day gift ideas. Whether your cushion of love is displayed on your drawing room couch or tucked away in the privacy of your bedroom, share the love with your Valentine this upcoming February with that special photo memory prestinely printed on your cushion of love from Bags of Love.