It's that time of year again! Time to bring out the inner-lumberjack, march into the forest, and chop down your Christmas tree for 2011. Or perhaps for the less adventurous, more allergic to pine needles type, you're bringing out the box full of artificial Christmas tree branches and plugging each one carefully into its sturdy plastic trunk. Yet whether you're hauling in or carefully assembling the big 2011 Christmas tree, it's that time of year for the Christmas tree decorating to commence! This year, add to your beautiful Christmas tree decorations with personalised Christmas tree decorations from Bags of Love.
Christmas Ornaments
Choose between any of our Christmas ornaments (available soon) which come in all shapes and sizes, and most importantly select your favourite photo memories from your own personal digital photograph collection to print onto your personalised Christmas tree decorations. With personalised Christmas tree decorations, you won't be able to imagine decorating your Christmas tree with anything better than the smiling faces of your loved ones and happy snapshots from fond memories past.
Christmas Stockings
Traditionally, Christmas stockings are hung above a fireplace so that when Father Christmas arrives through the chimeny with his sack full of toys, his first delivery is the small items that become stocking fillers that rest so comfortably in your Christmas stockings. Well this year, impress Father Christmas with your personalised Christmas decorations by printing your best digital photographs onto your Christmas stockings! Or give Father Christmas his own personalised Santa Sack to ensure your spot on the "Nice List" and that Father Christmas will return to your house for years to come.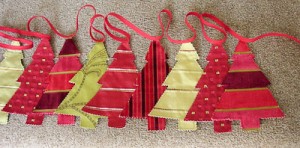 Personalised Bunting
If you're looking for truly original personalised Christmas tree decorations, then check out our personalised bunting! Since bunting is traditionally used for specific celebrations, such as birthday parties and baby showers, why not celebrate the true meaning of Christmas by celebrating the birth of Jesus through images of the ones you love. Just as He brought love, so can you share the love by displaying your favourite photographs printed on personalised bunting. Whether you decide to boarder your walls, hang individual pieces like a banner, or spruce up your Christmas tree by drapping your personalised bunting through its branches, you will continue to spread the love of Christmas through your festive personalised bunting.