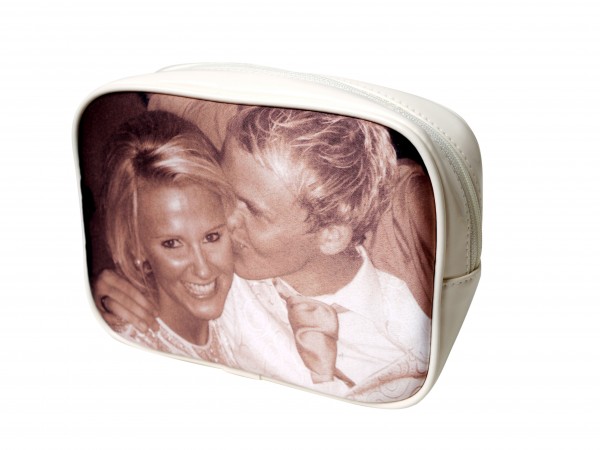 Items such as a woman's make-up bag and a man's wash bag can very often be lifeless and boring bags. Most people tend to focus on flashy handbags and holdalls. And whilst there is nothing wrong in doing so, don't leave your make-up bags and wash bags out of the equation! They should be good looking and interesting bags too. A woman's make-up is often seen by her friends and co-workers and a man's wash bag is noticeable in the gym or whilst travelling.
Don't let your girlfriend or wife be the one woman in her office with the dullest make-up bag! This Valentine's day you can give impressive Valentine's day gifts for her by giving her a flashy make-up bag. Personalised gifts such as the make-up bag are truly effective Valentine's day gifts for her. Not only will she show off a high quality make-up bag at work, she will show off her gorgeous man too! By placing a photo of the two of you on a make-up bag in the colour of her choice, you create the ultimate make-up bag ready to be exposed.
The same goes with Valentine's day gifts for him. Perhaps you and your husband just had a baby and he is the proudest daddy to ever hit the gym, a photo of him and his child on a personalised wash bag will bring him so much joy. Every time he brings out the personalised wash bag in the gym or when he's away on business trips he will see his pride and joy, his baby girl or boy, and be thankful for his great family. These canvas or leather personalised wash bags are Valentine's day gifts for him galore! A make-up bag for her and a personalised wash bag for him are superb personalised gifts that will be appreciated on Valentine's day.