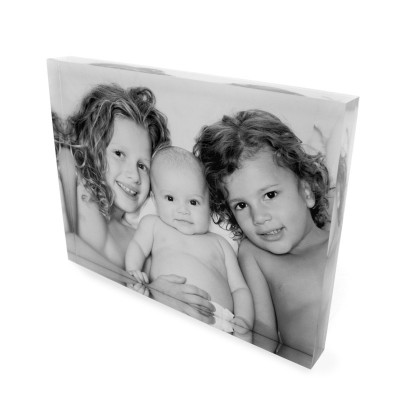 New Born Baby Gifts Smothered In Photos
Proud new parents love baby gifts smothered in photos of their little one, that's why it's so brilliant that you can add photos to so many gift items with the help of Bags of Love. New born baby gifts for mums and dads are easy to make once you have photos of the baby. Cute photos of the baby will look fantastic on new born baby gifts for the home such as photo coasters, photo placemats and acrylic photo blocks. Parents will adore new born baby gifts with actual photos of their baby.
Baby Photos In Acrylic Photo Blocks
Photo coasters, photo placemats and acrylic photo blocks are all glossy, high quality items with outstanding photo reproduction that can display baby photos in a truly extraordinary way. The acrylic photo blocks made from thick diamond polished acrylic have a 3D appearance which makes the most of the baby photos. This is the modern way of framing photos and they make great new born baby gifts. They are also safer photo frame options than normal glass ones as they won't shatter.
Photo Placemats And Photo Coasters
Photo placemats and photo coasters are other modern ways of displaying photos in the kitchen, dining room and living room. Instead of having baby photos in frames or on the walls why not have them on the kitchen table? New born baby gifts are at their best when they can be displayed to the fullest and what's better than letting the parents see their baby even whilst eating? The parents can entertain guests and let them rest their drinks on photo coasters of their precious one.