Personalised Photo Cube
from £29.00
Our personalised cubes provide a tactile use for your photos. We make custom picture cubes by printing our fantastic cushion fabric and stitching it to perfectly fit a wide range of firm foam cubes from small personalised cubes for baby, to huge printed cubes you can even sit on.
Pay after delivery

Quantity discount
Create photo collage Cube

>
Automatic Photo montage
Create your montage in 5 easy steps!
1 Press Start Design and select product options
2 Upload your photos
3 Click and select photos to montage in the gallery
4 Select montage style & preview
5 Add to design, preview product and proceed to buy!
Need a bit more help?
Don't be shy, it's a whole new concept!
Contact us and let us explain
Too many photos will result in very small images, so we will advise a maximum number of photos per product size. Contact us if unsure.
Personalised Picture Cube
Six sizes of cubes from small to huge
Firm foam covered in quality printed fabric
A mini gallery, toy and home furnishing
Stack them, line them up, sit on them and have masses of fun with picture cubes.
A cube is an amazing object embedded in our lives from science to building. The essence of our personalised photo cube is that instead of viewing a single 2d flat image, you combine images into a multiple faced object where three different aspects of the cube can be seen simultaneously.
Available in six different sizes
4 to 20 inches (in multiples of 4)
10 to 50 cm (in multiples of 10)
Print six sides differently or the same
Firm foam inside material
Handmade to order in the UK
Reviews for
Photo Cubes
Impeccable service

11 out of 10 need I say anymore

Cubes and blanket

I bought x3 cubes and one small fleece blanket. I had actually expected the cubes to be hard Perspex or similar so was surprised they were soft/material - but still very good representation of the photos. The blanket I did as a small present for my daughter when she goes to Uni, one side has pics of her family and pets, the reverse friends and school memories. I hope she'll like it, I'm very pleased with outcome. It was easy to put the products together and arrange the photos where you wanted them and in what order when they overlapped. Uploading photos very simple and items stored if you had to come back to them and also sent through to review before purchase. All round good experience - have used before for Christmas decorations which were equally good and other gifts. Will definitely use again.

LOVELY GIFT BUT RATHER EXPENSIVE

The service was excellent & the 4" cube was lovely; it was bought as a special gift & the recipient was delighted. But I do think that the cubes are very expensive, so reluctantly would be unlikely to order again unless it was for a very special occasion.

What a great gift!

I bought a 6" photo cube for my mother's birthday. She has dementia so I thought it would be perfect as it's tactile and unbreakable and big enough for her to see. I'm very impressed with the quality and service.
We print all six sides with your six best images and text, to make a decorative cube. Play with these picture cubes; throw them, catch them, build and learn with them... it's endless fun when you have a picture cube set.
Personalised Cube Sizes
Six Of Your Photos On A Cube
Use six photos to make a unique custom cube. An artistic object or a picture cube. You could put dates or words on the top and bottom to make a classic anniversary gift idea. They can be up to 20" which makes them a very original piece of soft furnishing that won't go unnoticed.
How we make it
It comes with our super soft cushion fabric which has brilliant print qualities and is great to touch. This print is sewn into a tight fitting cover for our carefully selected firm foam cube. The foam is resilient and fire retardant too, ideal for home picture cubes. Use your photographs to make a custom personalised gift with our cube. Possibilities are endless; dice, words, games, patterns. Great for new baby gifts, living room décor and Christmas presents. A wide range of sizes and personalisation options with superb build quality, means these design classics are hard to beat.
Design Tips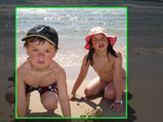 As the photo cubes require 6 square images it's best if you select 6 photos that have obvious square crops available to them. Don't worry, you can see all of this in our preview before you buy your cube. If you choose one of the larger sizes, you can as well create collage cubes to use more than 6 images. Try it out now by pressing start design above and create collage cubes, a cube with 6 images or even text on some sides.
The smaller picture cubes make ideal easy photo gifts especially if you buy twin packs so up to 12 photos. The 16" or 20" ones are interior design pieces and great for the living room or kids bedroom. The largest one will take the weight of a 100kg person sitting and even standing. The foam is high grade and will last years. In fact the same foam has applications in physio for bolsters, lumbar rolls, gym wedges, and sports hall mats.
Care: Surface wash only with a damp cloth.
Fire Rated: Outer cover fire rated to BS7176, BS3379 and Toy and cushion filling fibre BS5852 compliant. Polyurethane foam compliant to BS5852 ignition source 5 (Crib 5).
You may also like: