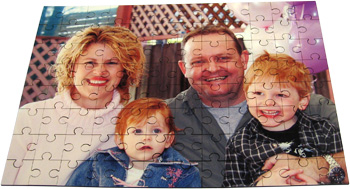 Our aim here at Bags Of Love is to give you a wide range of gifts to personalise. We are constantly coming up with new product ideas so that you have a variety of items to choose from. We want to offer you the most innovative and cool gifts that are practical and cute at the very same time. Our bag range is very popular amongst men and women and it is diverse as we offer everything from make-up bags to iPad cases. We have gifts for him, for her, for the beauty queen and for the geek. We have personalised gifts perfect as leaving gifts, birthday gifts, Valentine's gifts and Christmas gifts.
But above all we offer a wide range of items that you add your own personal flavour too by customising them using your photos, drawings, artwork, illustrations or graphics. Our personalised gifts will put a smile on everyone's face – from your child to your grandmother. We have plenty of cool gifts which will impress friends and family. The jigsaw puzzle is certainly one of them. Imagine giving your family a jigsaw puzzle of that great photo from an African safari you went on last year. Your family will love putting the puzzle together and remember that amazing holiday. Pretty cool don't you think?
To add coolness to the already cool puzzle it comes in a slick silver tin with a photo on the lid. The iPad case is one of our latest inventions and it is pretty damn cool. Totally fitted for the Apple iPad it protects the gadget whilst it adds a personal touch. We are the only personalised gifts company in the UK that offer this cool gift. So not only do we offer you cool gifts but they are also super exclusive gifts.