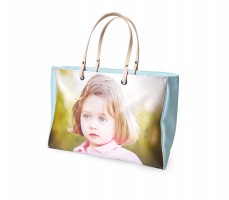 Mothers. No one else in the world can compare to the beauty, strength, and wisdom your mother gives. The woman who raised you, taught you right from wrong, and picked you up when you fell down, she of all people deserves the most precious Christmas gift of all. Whether you are buying for your biological mother or the women who've mothered you, every woman will feel loved and appreciated with our Christmas gifts for mothers. By selecting her favourite photos from your personal collection, you can give Christmas gifts for mothers with signature memories from their own lives that are bound to bring a smile to their faces and joy to their hearts.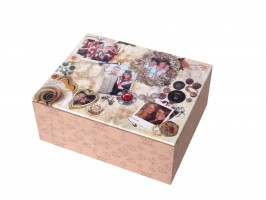 Christmas Gifts for Stylish Mothers
This Christmas, impress your maternal fashionista with personalised accessories! With your carefully selected digital photograph, give Mum a personalised photo handbag to keep and carry all her essentials. Any woman (and man, for that matter) knows the importance of a woman's purse. Well this Christmas, instead of giving your mother a common purse or hand bag — one that any other woman might be toting on her shoulder — design and create an original handbag that sports her favourite photo memory. Let's just say Mum will probably receive many impressed stares for modeling a classic yet unique trend, and no one on the street will have her identical bag. The same holds true for our personalised graffiti bag, except instead of individual photographs printed on the designer bag, a text of your choice will be printed in vibrant colours which has proven to be a real showstopper true to designer bags. Also, another popular and quite feminine Christmas gift for mothers is personalised make-up bags to store all those mysterious items that accentuate her natural beauty. Remind Mum of a happy memory every morning with a lovely photograph printed on her personalised make-up bag.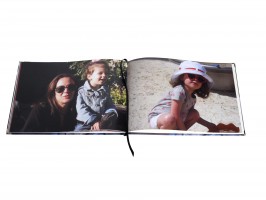 Christmas Gifts for Adventurous Mothers
Is your mum forever on the go? Always juggling a never-ending balance of identities: career woman, wife, daughter, sister, friend, and mother? This Christmas, give personalised Christmas gifts for mothers that allow her to look back and remember all the wonderful memories within her whirlwind of adventures with wonderful photobooks, calendars, and even cases and covers for her beloved gadgets. Life goes by too quickly. At one point or another, you've probably heard your mother say, "You're growing up too fast!" Be sure to document those precious moments with photographs in our photobooks. Photobooks make the perfect Christmas gifts for mothers because, not only does it look like a published scrapbook of her beautiful life, but also the photo memories recorded in your mum's photobook will last for generations to come.  Another Christmas gift that mum will use every day for the next year is a personalised photo calendar. Assist mum in planning and organising her upcoming adventures and countless weekly activities with a customised calendar that displays a different photo memory every month! Or if Mum is the family tech-wiz and catalogues her schedule on her iPhone or iPad, then create a personalised iphone case and iPad carrying case for her to enjoy.
Christmas Gifts for Homemakers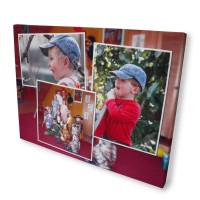 As for the hard-working homemakers, surprise mum with our Christmas gifts for mothers, such as a personalised photo apron, or some beautiful home decorations in our extensive photo cushions collection and unique canvas prints. If your mother loves to cook, bake, or get messy with arts and crafts, then a personalised photo apron just might be the perfect Christmas gift. Or for the stylish home decorator, give the home living room or Mum's bedroom a special touch with photo cushionsfor couches and beds, and canvas prints for any wall! If you are having trouble choosing between a number of photographs, then design a photo montage on our website and we will print your collage onto any gift. Regardless of the medium or style you choose, every picture we print will turn out crisp and vibrant. We guarantee to satisfy even the most particular homemaker with our Christmas gifts for mothers.