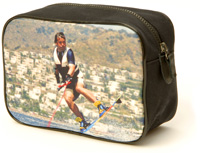 With a large selection of personalised photo gifts available, Bags of Love has a great collection of Christmas gifts for dads. Personalised Christmas gifts are entirely unique and they offer you the opportunity to give your dad something he definitely won't already have – whether you choose to include photographs of him, yourself, his car or his favourite mountain for hiking is entirely up to you and will help to make your personalised photo gift even more special.
Washbags and holdalls are the perfect customised Christmas gifts for dads. As well as being functional you can include one or two photographs or images. From a picture of your dad when he was younger to a picture of his favourite car or something representative of his hobby or pastime you can personalise the stunning leather washbags and holdalls.
Most of us have enjoyed more than one special occasion with our dads, and if you were fortunate enough to catch that moment on camera then why not immortalise it by having it turned into a photo canvas? Alternatively, if you have old photographs from your dad's youth or when he served in the forces then you can give these the same treatment. Photo canvases come in a variety of sizes and they all look incredible hanging on the wall in the front room, the dining room, or even his office.
In the same vein as a photo canvas, photo blocks are similar in many respects to old school framed photos. They are, at least, similar in size and application. Any image of your choosing can be printed onto the block which has a glossy finish and is a self standing unit. Nothing else needs to be added to the photo block so it can even be posted in time for Christmas gifts if you order soon.