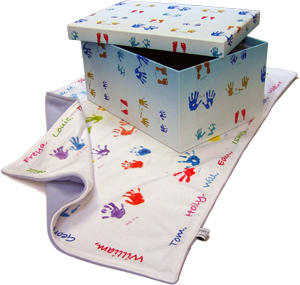 A fantastic way to personalise our baby gifts such as the baby sleeping bag, baby blanket, keepsake box, baby changing mats, photo cubes and cushions, is to put a baby's hand and foot prints on them!
Immortalise your baby's tiny hands and feet and create a unique and gorgeous baby gift. You make the prints, scan or post to us and we turn them into personalised gifts right here in our London studio. You chose the colours you want while making the prints so the design is totally up to you.
They also make superb gifts for 1st birthdays and christenings. Perfect baby gifts for boys, girls and even twins! The changing mat is an excellent gift idea for busy parents of new born babies. A cushion or photo cubes with your baby's hand and foot prints are bound to bring a tear to the eye of grandparents, so why not give them this precious gift?