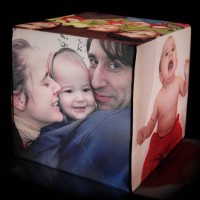 Too Cool for Mainstream Xmas Presents?
Are you in search of unusual Xmas presents for those quirky or hipster friends of yours who are never impressed by anything mainstream? Well, here at Bags of Love, we have a huge variety of cool and unusual Xmas presents which are not only one-of-a-kind, handcrafted gift items, but are also bound to blow your recipient's tall, polyvore-approved socks off! To design your unusual Xmas present, all you have to do is select your favourite photo memories, download them onto our website, choose a design, and… that's it! Within days your unusual Xmas presents, complete and dazzling, will arrive on your doorstep just in time for the holidays. Even if you are in a rush before Christmas morning, never fear! Your unusual Xmas presents are guaranteed free shipping anywhere in the UK, and will then arrive 1-2 days after placing your online order.
Unusual Xmas Present Ideas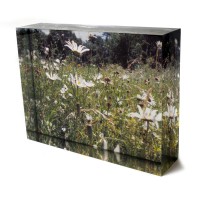 Have you ever heard of a photo cube? Really? You haven't? wow. Everyone knows what a photo cube is…. This will probably be your hipster friend's response to anyone who inquires of their awesome and unusual personalised Xmas present. A personalised photo cube is a new and unusual way to display your favourite digital photographs. Photo cubes are assembled by printing your photo memories onto cushion fabric, and then sewing those square images around a wide range of firm foam cubes. Whether you play with your photo cube like a dice or turn it carefully everyday like clockwork, the personalised photo cube is a lovely and unusual Xmas present idea. Another similar and just as unusual Xmas present is our photo light cube. Complementary to the photo cube, the photo light cube prints your favourite pictures onto a lamp shade material (stretch micro fibre) so that your precious photos can be illuminated by the 40 watt lightbulb included with this purchase.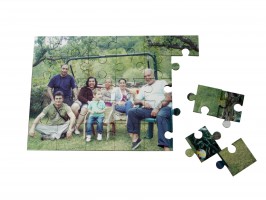 More unusual Xmas present ideas that are not cube shaped include our personalised jigsaw puzzle, photo fridge magnets, and for a larger present, our triptych canvas prints. If your recipient isn't liberal enough to own an iPhone, then a personalised iPhone cover with one of their best photographs printed on the protective plastic frame just might do the trick. On the other hand, if your unusual Xmas present list is targeted toward classy yet unusual home decor ideas, then might we suggest our acrylic photo blocks: essentially freestanding photo frames in the likeness of glass blocks with crystal clear images and light refractions. Unusual xmas presents for your friends and family members who are "so over picture frames" but who will cherish the right photo memory forever.