There are many ways to find unique Christmas gifts ideas and one of them is surely to create personalised photo gifts. Customizing your gift ideas with your digital photos makes it possible to always have the right gift for any occasion or recipient. Photo gifts can be considered as the union of a perfect original gift or a loving thought. And if you're so good to pick up the right photos you can easily create unique Cristmas gifts for all your friends and family.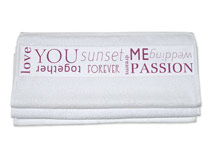 Personalised towels
Personalised towels could be an original gift idea for any occasion. Personalised towels for the gym, personalised wedding towels for him and for her (just to make things clear), personalised towels for guests or you could use personalised towels as a gift for those who have recently moved house, started to live together with the their partner or who is about to start a long trip …
Personalised tea towels
Why not dry your dishes with the face of your husband printed on it or polish your pots with an artistic design?! We have a massive range of personalised tea towels, photo tea towels and cotton tea towels with plenty of designs to suit absolutely everyone. Personalised tea towels are ideal gifts and treats for friends and family. The colourful designs on personalised tea towels will brighten any kitchen. That's why tea towels and other articles for the kitchen are never out of style when it comes the time for choosing unique Christmas gifts. They make thoughtful presents that people are happy to receive, and buying them is not an inordinate expense for the gift-giver.