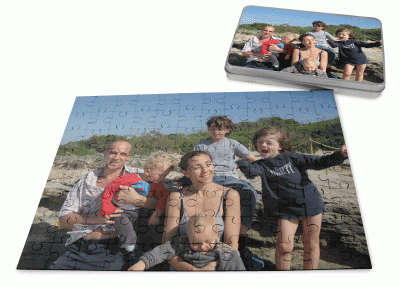 Superb Gift Ideas For Kids and Adults
Photo jigsaw puzzles are certainly not just for kids –  only they make excellent gift ideas for all ages! They make perfect personalised presents for kids, teenagers, adults and even your grandparents. Putting together a photo jigsaw is a fantastic activity to do with the whole family on a rainy day or whilst on holiday. Photo jigsaw puzzles are great gift ideas as they come in a cute little tin box, which also can be personalised, alongside having the option to be personalised with any images and text you want.
Photo Jigsaw With Photos And Text
You can personalised a photo jigsaw with photos/images and text or strictly with photos or text. A jigsaw puzzle using only text make cute personalised presents when you want to say something with words. Choose words which represent the relationship you share with the gift receiver. Or make a year jigsaw with words that remind the person of events from this year. Or you could ask someone a question with the help of a puzzle. Putting together this type of jigsaw puzzle will be exciting!
Photo Jigsaw Puzzles As Personalised Presents
A photo jigsaw using a photo is equally exciting. The photo on the personalised tin can match the photo on the photo jigsaw or why not just use text for the cover of the tin to leave the receiver guessing what photo is on the puzzle? This way he or she will only realise once the pieces of the puzzle are starting to come together. Photo jigsaw puzzles really make superb gift ideas for anyone. As personalised presents for a friend's birthday, as anniversary gifts to parents and grandparents and as a romantic gift to your sweetheart on Valentine's Day.