Unique Christmas Gifts from the heart
Even though producing and creating unique personalised gifts for you is pretty high on our Top 10 list of 'things we love to do' there is one delight even higher on that list. Getting an email or a call to hear about happy and very satisfied customers and their photo gifts. Hearing from you just makes our days.
A few days ago we turned dozens of photos from a customer into one of our newest products: The photo quilts. It is jsimply magical to see how wonderful images can be turned into something that will last for a lifetime or even wander through the next generations of a family. For years it has been a tradition to quilt blankets by hand in a patchwork style, either with different fabrics, colours or even embroidered with the family name or even the dates of births in the family – a true heirloom quilt with lots of history. Sewing a quilt yourself is known to betime consuming, so our option to have your own photos sewn into photo quilts sounds much more convenient for the busy people we are today.
Create unique Christmas gifts that will last for generations
Be it the photos of your children or some small notes they wrote you years ago, you can have printed almost everything onto the unique and handmade photo quilts.
This lovely memory quilt shows you how beautiful the photos of your pets can look on the photo quilts. Aren't these ones just the perfect Christmas Gifts for any pet lover?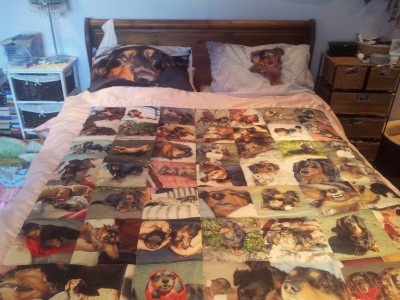 We always appreciate when customers are happy and satisfied with their photo gifts…
'Thank you so much for the gorgeous quilt. It is even more amazing then I expected and I am thrilled.
I have been texting and emailing all my friends, pictures of it and more importantly, the dogs thoroughly approve!
Will definitely be recommending that my friends invest in one!'