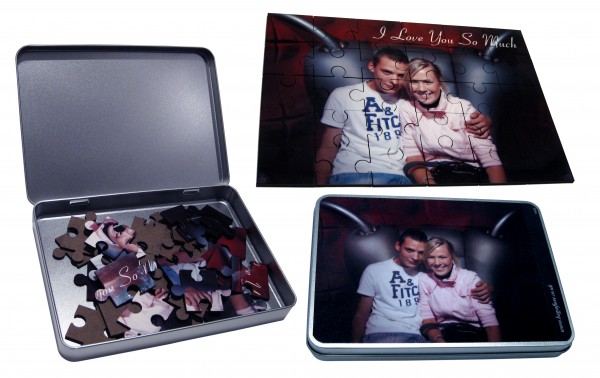 If you want to surprise your boyfriend or girlfriend with a gift that will remind them of how much you love them, we recommend our personalised jigsaw puzzle. Personalised gifts really show how much you care because you've taken the time to personalise a gift using your own photos and choice of text.
As you can see above, the jigsaw puzzle is of excellent quality and looks truly stunning. The glossy puzzle with perfect photo reproduction comes in a beautiful silver tin with a hinged lid, which is also personalised with your image. You can choose a 30 piece or 96 piece puzzle and adding text is optional.
These puzzles are the ultimate personalised gifts as they display an image, a bit of text and offer an activity. Putting together a 96 piece puzzle is a great activity for a day off. Watch your girlfriend put together the puzzle and unfold the hidden message which will only appear when the last piece of the puzzle is placed! Guaranteed she will love it and love you even more for it.