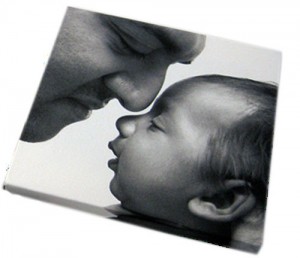 The first Christmas that a new family spend together is one of the most memorable times in their life. As soon as a new baby arrives home it becomes immediately obvious how much of a difference they will make to life, and Christmas is one of the special times of the year when you truly appreciate having your son or daughter around. Most new parents have a tendency to lavish gifts on their children, and rightly so. There are also many different Christmas gifts for the new parent.
As a general rule, new parents cherish anything to do with their son or daughter. Anything that includes a picture or pictures of the baby will make excellent Christmas gifts for new parents. This is where personalised photo items really stand out when choosing the ideal Christmas gifts.
For the more extravagant Christmas Gift, a photo canvas print is a surprisingly affordable way to immortalise an image of the baby. Using a digital photo or even a scanned image, a professional personalised photo gift service can print this image onto high quality canvas and then stretch this around equally high quality pine. Not only do photo canvas prints look incredible but they will last an age.
The photo block is a contemporary version of the framed photograph. The image is printed directly onto the block and has a naturally glossy finish. No glass or any other material is added, except for the stand on the rear of the block. This makes the photo block safer and lighter so it can even be sent in the post without fear of damage and without costing the earth in postage fees.
Other options include a photo blanket, personalised calendar, photo books and albums, and a whole host of unique items that can be completely customised through the addition of one or more pictures of the baby. New parents will truly love these Christmas gifts, but you might also consider using family shots so that the rest of the family don't feel left out.