Gift Ideas for Relatives this Winter
The winter holiday season can sometimes become a bit stressful.  With so many gifts to buy and little time to spare the whole process can be overwhelming.  Luckily for you Bags of Love offers such a wide variety of products, you can do all your shopping in one place!
Here are some of our gift suggestions for each generation of the family.
Gifts for Grandparents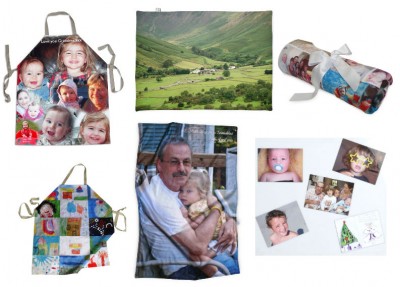 At the top end of our product offerings, we suggest the photo blanket (pictured in the centre).  The blanket is available in three sizes (S-M-L) with the option to add multiple images and text.  Grandparents will love to snuggle up with a blanket made just for them with pictures of their favourite people and places.  Photo blankets are especially great for Grandparents that love to curl up with a good book or board game in the evenings.  Another fantastic gift option are our  personalised aprons.  Ideal for grandparents that love to cook or garden, our aprons are waterproof and easily washable.  Add as many images as you like including the option to add text.  Finally, we have our photo fridge magnets currently on offer – 3 sets of 12 for the price of 2!  Most homes have a fridge, so there isn't a chance that this gift will go to waste 😉
Gifts for Parents and Professionals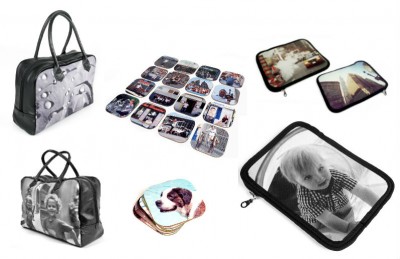 Both parents and professionals are on the go during the day and would appreciate gifts that are functional as well as stylish.  Our Italian leather holdalls, available in two sizes, combine function with fashion perfectly.  Create the design online and receive the luxurious tote within a few days!  Our holdalls are brilliant for lugging around essentials, whether that means nappies or notebooks!  We also suggest our iPad or Kindle cases – each one specifically designed with the madly popular pieces of technology in mind.  Help protect their mobile devices and images and text to suit the personality of the recipient.  Another practical gift ideas are our photo coasters, offered in packs of 4 up to 12.  Add a different image to each coaster, or repeat pictures – the choice is up to you!  Great for adults that host parties with guests of all ages.
Gifts for Children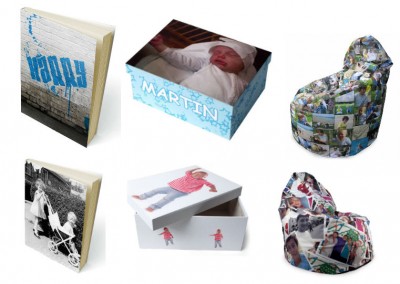 One of most coveted items is our personalised bean bag– teenagers and toddlers alike love them! The bean bags are available with various photo montage options, you choose the images to use and the type of montage.  A real treat for a special kid.  Another fantastic gift for children are our photo boxes, available in a variety of sizes and colours.  Add images to the the lid with the option to add a personal message on the inside.  Children and teens will appreciate the opportunity to collect their favourite things in one private personalised keepsake box.   And lastly, we have pocket notebooks for kids of all ages.  Whether is serves as a child's first journal, or as another diary/sketchbook to add to their collection, our notebooks will preserve their most private thoughts. Our pocket notebook books are also on special at the moment – 3 for the price of 2!
These suggestions are simply a starting point to get you thinking about what gifts to give your relatives.  We have a wide range of personalised gifts – CLICK HERE to start exploring.