It's the most wonderful time of the year…almost!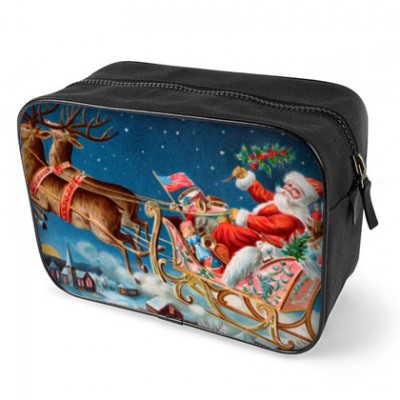 We here at Bags of Love are getting very busy with lots of Christmas orders and making our HQ nice and festive. Of course, there is one man who is even busier than us at the moment, ensuring all his gifts are getting ready, sorting out the naughty and nice list. Of course we are talking about the main man, Father Christmas.
Even though good old St. Nick is super busy at the moment, he was still kind enough to sit down with us for a quick chat about his favourite Bags of Love products – we never knew he was such a big fan!
Bags of Love: Wow! Father Christmas, what an honour it is to meet you! Thank you so much for chatting to us, we know how busy you must be.
Father Christmas: It is an absolute pleasure. I always enjoy a little break when I can.
Bags of Love: Just for the record, should we call you Father Christmas? St. Nick? Santa Claus etc?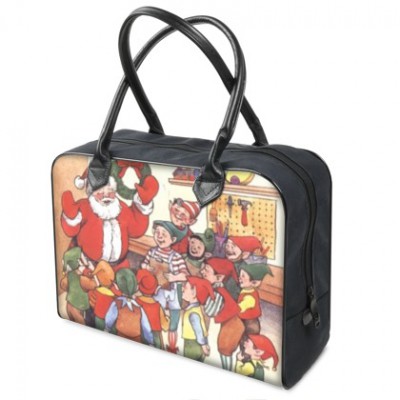 Father Christmas: You can call me anything you like. I'm known all over the world by different names, so you can choose whichever one you want. Or, just call me Bob!
BOL: Haha! Great stuff. So, we understand that you are a bit of a fan of Bags of Love?
FC: That's right. A few years ago, Mrs. Claus got me a wonderful Personalised Wash Bag for Christmas, with a picture of yours truly flying in my sleigh. It was so lovely that as soon as I unwrapped it, I immediately jumped online to have a look at the Bags of Love website. We have good Wi-Fi at the North Pole!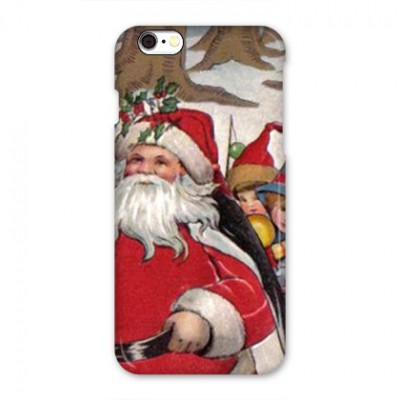 BOL: Well, we are honoured! Can the elves make personalised gifts?
FC: Unfortunately, although extremely skilled toy makers, my elves are not quite as good as the Bags of Love team at creating unique personalised gifts. Maybe some of your team should spend some time with us at the North Pole showing us your secrets!
BOL: We will run it past the product team for sure! So you are a fan of the Bags of Love website – do you have a wish list of your own?
FC: Absolutely. I have already made my list and have handed it out to Mrs. Claus, the elves and a couple of the more generous reindeer. It's a good thing you deliver to the North Pole…
BOL: So can we ask what is on your wish list?
FC: Well, I think that should be fine…means I can drop an even bigger hint to the missus! First of all, I really want the new Personalised iPhone 6 Cover. I sent one of the elves down to an Apple store to queue up for the iPhone 6 and now I want a personalised phone cover for it! I like the fact that it is a wrap cover, so my design goes around the corners of the phone too!
BOL: Yes that is a very popular choice for Christmas. What else is on your list?
FC: Well, Mrs Claus and I like to go away for a few days every January…just to recover from the Christmas rush, and my old Santa's Sack is no longer in the most tip top condition, so I really wanted to get a new weekend bag. I love the Bags of Love Personalised Holdall. I think it is so smart and I would be able to fit in everything I need for a long (and well deserved) mini-break. That is definitely on my list.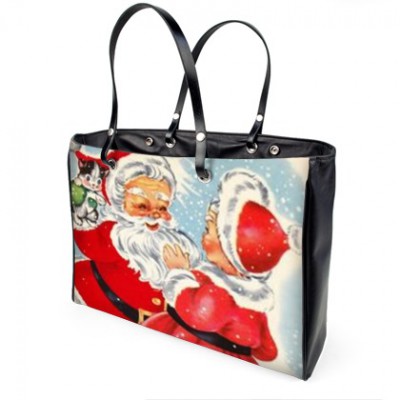 BOL: Great choice. Our Personalised Holdall is perfect for short breaks and weekend getaways.
FC: I also really want one of your Photo Blankets. It gets quite nippy riding on that sleigh all night in the middle of winter and although my red suit is insulated, I always like to bring a blanket along with me. I would love a personalised blanket featuring a photo of Mrs Claus, the elves and the rest of my festive family, to keep my company on Christmas Eve!
BOL: What lovely choices! I'm sure we can help out with one or two of these! Now what about presents from you? Would you design a personalised gift for Mrs Claus?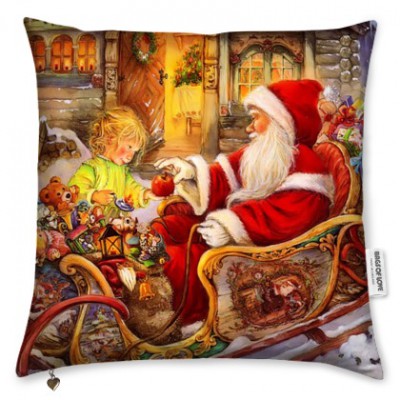 FC: Oh absolutely! In fact, I have already started my designs. I want to get Mrs. Claus one of your Personalised Luxury Handbags and a selection of your Personalised Cushions. She loves cushions does Mrs. Claus. Puts them on every sofa and bed in the house…but she doesn't have any personalised ones yet!
BOL: What a lovely idea! Make sure you place your order for her before the big Christmas rush! Anything else?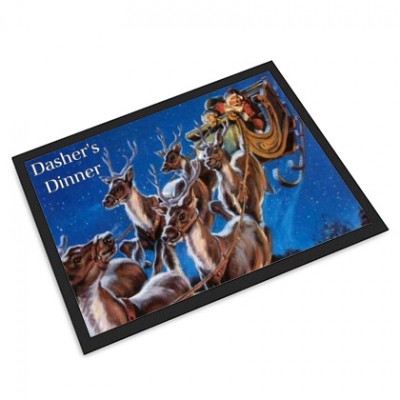 FC: I want to get a Personalised Pet Feeding Mat for each of the reindeer – Dasher and Dancer are always fighting over their food, so it would be lovely for each of them to have their own dedicated eating space.
BOL: Well Father Christmas, we can't thank you enough for taking the time to talk to us.
FC: It's been a lovely break for me! But I must dash, I told the wife that I would be back in time for dinner.
BOL: Enjoy your dinner and we look forward to (hopefully) spotting you on Christmas Eve! Merry Christmas!
FC: A merry Christmas to all and to all a good night!
Bags of Love x