Custom Travel Neck Pillow
from

£29.00

Travelling just got cosier with our personalised neck pillow. This travel neck pillow is plump and supportive to cradle your head position. The U-shaped custom neck pillow is a perfect for flights so if you know someone flying often, this is ideal.
Ready in 1 - 2 day(s)

Production time: Ready in 1 - 2 day(s)

Delivery time: 1-3 days, several options available.

We are fast, and print most products in one day if you order before 12:00pm. Excludes delivery time.

Made in UK

Made in UK

Lovingly made in the UK by our talented artisans here in London.

UK delivery: £4.99

UK delivery: £4.99
Western European: £14
Other European: £16
North America: £16
Australia / Japan: £22
Rest Of The World: £22

Quantity discount

Quantity discount

Create more, save more

Buy 1

£29.00

Buy 2

£27.00 Each

(Save £4.00)
Create photo collage Neck Pillow

>
Automatic Photo montage
Create your montage in 5 easy steps!
1 Press Start Design and select product options
2 Upload your photos
3 Click and select photos to montage in the gallery
4 Select montage style & preview
5 Add to design, preview product and proceed to buy!
Need a bit more help?
Don't be shy, it's a whole new concept!
Contact us and let us explain
Too many photos will result in very small images, so we will advise a maximum number of photos per product size. Contact us if unsure.
Custom Neck Pillow You Design
Luxurious soft touch plump travel pillow
Dims 33x30cm, lightweight - 300gms
Supportive neck pillow in soft faux suede
Photos, text or design printed all over
Detachable, washable cover. 2 year guarantee
---
Reviews for
Personalised Neck Pillows
Wonderful product, turned out better than expected! A very well received gift! Delivery was quick too! A very happy customer!

Awesome product, super fast shipping and delivery. Amazing price for quality of service.

Amazing! Great service and brill photo neck pillow x

It he travel neck cushion was amazing The quality is first class
Custom Travel Pillow That Helps Sleep
Our neck pillow is a great find amongst a world of bland travel pillows. There are plastic blow ups you puff but sweat on, or there is our beautiful soft fabric supportive custom made one, with a your design. Buy well, with one that lasts years, and increases your chances of a good snooze every flight. With our personalised neck pillow it's the perfect blend of comfort and support that cradles your head, does not cause sweat, and contours to you for support in a seated position. You only get this type of support from a well designed pillow. Our U shape is ideal, and the stuffing is the best quality toy stuffing that you would find in highest quality teddy bears (consequently fire rated too). Soft and cuddly travel neck pillow you can customise with your designs, making it a reliable product and gift for years to come.
Flying can leave you achy, not least with neck pain caused by dozing at an awkward angle. That's where our flight pillow helps. The contour filling makes this one of the comfier pillows to cradle your head and neck. Detachable cover for washing will keep your custom flight pillow in tip top shape too.
What About Check-in And Gate?
If you like to travel light, with hand or cabin luggage only, it means you have to be very well organised, baggage efficient and hand luggage optimised. Our custom flight pillow is very good at retracting and expanding, so you can squeeze it into the most obscure crannies without worry; it will return to shape. Alternatively you can wear it through, as not being much more to the eye than a big scarf, it may pass. No-one likes to be told to combine their separate but small extras at the gate, so this might be a small virtue as you 'wear' it through. If not appreciated then stuff it into your bag.
Travel Neck Pillow Measurements
It's a U shaped neck pillow for flying comfort. Sensible people prepare well for their flight journeys, and this custom flight neck pillow works really well on flights where there is no recline to help you nod off and let the time pass by. Provides good support, is soft to touch, but firm enough with fine quality toy stuffing to hold your head up and encourage good sleep.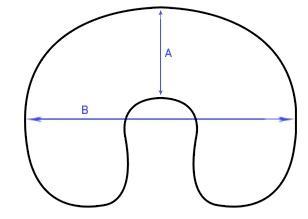 A = 10 cm
B = 33 cm
Thickness: 8 cm
Design Tip
The super soft Personalised Neck Pillow is covered with luxurious Suede Vision fabric. This plush and cosy fabric will showcase your print beautifully. We recommend choosing slightly larger photos or designs, especially if you want a photo montage effect, to ensure that the details standout on the soft fabric.
Care: Detachable zip cover machine washes 30 deg C, tumble dry or dry flat. No ironing required. Surface wipe too. Print Will last a lifetime. Whole personalised neck pillow has 2 year guarantee.
For Your Safety: Cushion cover fire rated to BS7176, BS3379. Toy and cushion filling fibre BS5852 compliant
You may also like: