Printed Long Sleeve T Shirts Designed By You
from

£44.00

Be a trend setter with your own custom printed long sleeve t shirts. Personalised with your photos, quirky design or even text, your bespoke Jersey tee is one of a kind. You design every element - front, back, sleeves, neckline, label - so let your imagination run free. Printed long sleeve t shirts come with a choice of 3 fabrics and 8 sizes from XS - 4XL. Don't just buy fashion; create it.
Pay after delivery

Quantity discount
Create photo collage Long Sleeve Shirt

>
Automatic Photo montage
Create your montage in 5 easy steps!
1 Press Start Design and select product options
2 Upload your photos
3 Click and select photos to montage in the gallery
4 Select montage style & preview
5 Add to design, preview product and proceed to buy!
Need a bit more help?
Don't be shy, it's a whole new concept!
Contact us and let us explain
Too many photos will result in very small images, so we will advise a maximum number of photos per product size. Contact us if unsure.
Personalised Long Sleeve Tops Features:
8 sizes: XS- 4XL
Choose from 3 full colour, fade resistant fabrics
Customise every element
Stretchy fabrics for extra comfort
Optional clothes label for finishing touch
Reviews for
Cut & Sew Long Sleeve T-Shirt
Unique T

This worked out really well, fantastic being able to do an all over print shirt and produce a 'one of a kind' unique piece of clothing. Made up of my sons drawings as a Christmas present, he loved it and has had loads of compliments. Will def do more. Fast efficient service too!

New band shirts

My bandmate and I couldn't be happier with our new shirts. My design looks awesome and has that same, very professional look of merchandise of really big bands.The Polyester shirts are very comfortable and feel great. I would HIGHLY recommend the polyester if going for a sharp, bright coloured result. If you want a faded (retro) look then cotton is what you should choose. Bags of love, were very helpful in communication back and forth. I've ordered from Germany, as I prefer reading an English website. If you want very high quality, I would recommend them highly.I have already used their online design tool to create a custom design motocross shirt with sponsor logos, and a replica Ice hockey shirt, with player name and number.If your after, "Bobs Stag do" t-shirts, then there are a million high street companies that could do hot press Tshirts, or screen printing, but if you want something really special and don't mind paying more for the quality, then look no further. Just make sure all of your design components are up to the quality, and hey presto, the coolest shirt you've ever worn!

I like the design tool very much. It is easy to handle and one gets a good impression of the design on the cloth. It is a good tool for prototyping, for more expensive designs it might work.

Bags of Love was very quick, efficient and useful. Definitely recommend it.
Body size chart
XS
S
M
L
XL
2XL
3XL
4XL
Chest

Chest

Measure around your fullest part, with the measuring tape under your armpits, making sure the tape is flat across your back.

XS

86 - 91 cm




34 - 36 "




S

91 - 96 cm




36 - 38 "




M

96 - 101 cm




38 - 40 "




L

101 - 106 cm




40 - 42 "




XL

106 - 111 cm




42 - 44 "




2XL

111 - 119 cm




44 - 47 "




3XL

119 - 127 cm




47 - 50 "




4XL

127 - 135 cm




50 - 53 "



Conversion size chart
XS
S
M
L
XL
2XL
3XL
4XL
UK Mens Chest

XS

36




S

38




M

40




L

42




XL

44




2XL

46




3XL

48




4XL

50



USA Mens Chest

XS

36




S

38




M

40




L

42




XL

44




2XL

46




3XL

48




4XL

50



EU Mens Chest

XS

44




S

46




M

48




L

50




XL

52




2XL

54




3XL

56




4XL

58



Product Information Long T Shirts UK
Fully customisable long sleeve t shirts are a real statement piece and will separate the boys from the men. Available in 3 different, but equally comfortable Jersey fabrics, and 8 sizes ranging from XS – 4XL, there's something for everyone. Not only do the full sleeve tops keep you warm, but they allow you to fully express your style, personality and individuality. For a unique photo gift, design one for your other half, dad or brother and watch it become a wardrobe staple.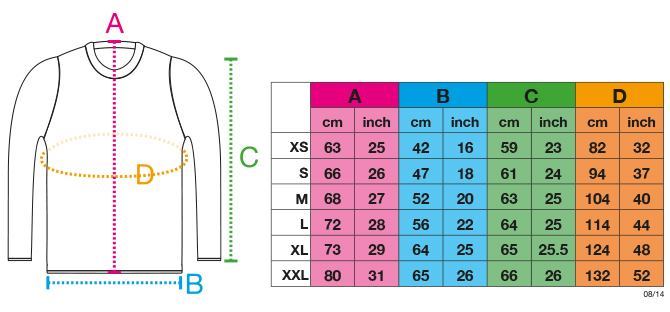 8 sizes: XS – 4XL
Lightweight, cotton or heavyweight Jersey
Personalise up to 7 areas
Additional clothes label (optional)
Full permanent colour
Fade resistant
Machine washable
Good, all-weather fabrics
Breathable & comfortable
How Your Custom Long Sleeve T Shirts Will Feel
160gsm Jersey
This is a sleek and floaty Jersey, perfect if you're looking for a looser top. It's less opaque than the other t shirts but our Jersey fabrics are suited to all weathers, so come rain or shine, this breathable lightweight long sleeve t shirt will keep you comfortable. Also, it's resistant to shrinking, over-stretching and creasing – is that the sound of rejoice we hear?!
180gsm Cotton Jersey
Lucky for you, this bounce cotton Jersey is moisture wicking, so it draws sweat away from your skin. Soft to touch, a good stretch and much more opaque than the 160gsm, it's a perfect all-rounder. Unlike the 160 and 190gsm Jersey, the cotton bounce has a matt finish, giving a completely different look to your personalised long sleeve t shirts. (Some shrinkage will occur on first wash, so bear this in mind when choosing your size.) Colours are given a slightly muted finish, which will give your t-shirt a stylish vintage inspired look. Repeat patterns work best over solid blocks of colour.
190gsm Jersey
This is one of our heavier weight Jersey knits and makes a gorgeous fabric for full sleeve tops. Thicker, but less opaque than the cotton bounce, it makes a lovely loose top for everyday wear. The natural drape and sleek texture feels amazing on the skin.

Care
160 and 190gsm
Machine wash at 30°c, medium tumble or hang dry. Iron and steam safe.
180gsm Cotton Jersey
This fancy fabric needs a little more TLC. Wash inside out at 30°c and hang to dry. Iron safe. Dry cleaning safe. Do not put in the tumble drier. Do not wring, steam or soak.

Long Sleeve Photo T Shirts Inspiration
For all the teenage sons and grandsons out there, a personalised long sleeve t shirt will go down a storm. Custom printed with their favourite bands or sports heroes, this makes a memorable birthday present.
Unleash your inner fashionista and put your own spin on a designer long sleeve top. Take inspiration from celebrities, or stay classic with a monogrammed design featuring your initials and year of birth.
If you're an arty type, or know somebody who is, then create a bespoke emblem that represents your personality. Totally unique, it's guaranteed to be a conversation starter at work or a party!

Who is the Personalised Long Sleeve T Shirt Designed For?
Made with style in mind, this is perfect for anybody who likes to be a little different and gets tired of the same old high street fashion. Dads are often hard to buy for, but don't go down the 'socks' route again. Surprise him with a custom long sleeve t shirt printed with a collage of his football club, or favourite band.

Quantity Discount
Like many of our products, the personalised long sleeve t shirts come with a quantity discount, so get one for all the lads and save money today.
You may also like: