Father's Day Gifts
Buy best selling Fathers Day Gifts for him to look at, knowing his family loves him. Personalised apron with his precious photo makes for the most original fathers day gifts that he will really appreciate because you have designed them just for him.
Gift him something unique this father's day - ties, wallets, slippers, or an iPhone case personalised with a precious photo. He will undoubtedly be the envy of all his friends, whose sleek but boring phone cases simply don't match up to his personalised gift for him with a photo of his son and daughter.
Having a cool dad just got easier by making him a unique gift with Bags Of Love. This father's day make him feel cooler than ever and choose from our unique range of personalised Father's day gifts: high quality and incredibly classy and easy to make. Fast too - most things made and sent in 1 - 2 days.
For the dad who travels, either for work or for leisure, we suggest a spacious, quality weekender bag featuring your selected image. Gifts for dads often assume that every dad is of the same generic type, but this is simply not the case. Some dads are sporty, some are outdoorsy, and some prefer to chill out at home. That's why we offer personalised gifts that you can customise exactly how you want.
Reviews of fathers day gifts
Very easy to make and uploading photos was quick and simple to do. End product was very good quality and looks fab! Great Father's Day present😄

Website & photo upload easy to use. Very fast delivery, very pleased with product & quality would recommend. I needed gift for Dad fast and you guys did the trick with the wash bag. Well done. I love the print and when I gave him the present this morning he was visibly moved. thanks

I was very pleased that you had something I was looking for. Good variety. Nice site , easy to personalise gifts. I had no issues with the service whatsoever and my gift got delivered when it was supposed arrive - next day. Brilliant team @ bags of love. Keep it up. My only feedback would be to improve the editing of personalised gifts a bit more. for e.g. there are limited fonts , the text can be written only in a vertical or horizontal axis ..

Everything was very easy and straightforward except I just had a problem with the picture for the free canvas but after a phone call to your office I received all the help I needed to get it right. The pictures arrived the next day safe and secure ready for Dad. Thank you.

I wanted to get my Dad something quick and easy for Fathers day and was surprsed to get my coasters in a few days. I'v still got two weeks to go - are you trying to tempt me to add to that? :-)... I will of course be back. I was very impressed with you design system that alllwed me to see the design - all my onw creative work before my eyes before I bought. It was a bit like using PhotoShop t odesign somthng. Way to go.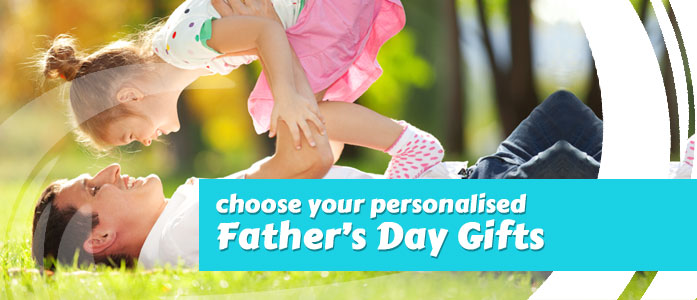 Personalised Father's Day Gift Ideas guaranteed to get your father laughing, crying or at least smiling. Make something special for him now.