Gallery Wrap / No Wrap and Mirror Wrap explained
A note about how we artwork canvas wraps
On some photographs, important details are near the edge and sometimes this can mean that hands, eyes and so on get wrapped round the edges of the canvas. Examine your photo: if there are details on the extremities, these might be wrapped over the sides particularly on smaller size or 4.5cm deep canvasses.

Part of our service is to give you the choice of how you want us to finish the wrap .It's worth thinking about this and about where the picture will hang. In our order process you have the option to choose Gallery Wrap, or Mirror Wrap, or No Wrap.
Gallery wrap
This is where the image folds around the edges. This is by far the most popular way of mounting a photo canvas. If you do not specify "no wrap" this is how we will present your picture.
Mirror wrap
This is where edge section is mirrored to the side, giving a gallery wrap appearance without losing any of the image from the front.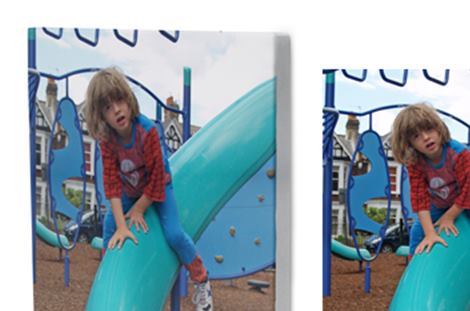 No wrap
This is where the image is not wrapped around the frame and is presented face-on with white sides (tip of the image going slightly over all 4 edges)
Original image
This is how the original image looks.
Mirror wrap examples