Personalised Photo Album Cover
from

£39.00

Treasure your family snaps in a beautifully handmade personalised photo album. Mounting your photos onto the Italian ivory paper with parchment tissue interleaves is a fun, nostalgic experience to share with loved ones. Design the front & back of the satin hardback cover for a truly special photo album for any occasion.
Pay after delivery

Add another and save....
Create photo collage Photo Albums

>
Automatic Photo montage
Create your montage in 5 easy steps!
1 Press Start Design and select product options
2 Upload your photos
3 Click and select photos to montage in the gallery
4 Select montage style & preview
5 Add to design, preview product and proceed to buy!
Need a bit more help?
Don't be shy, it's a whole new concept!
Contact us and let us explain
Too many photos will result in very small images, so we will advise a maximum number of photos per product size. Contact us if unsure.
Customised Photo Album Features
Self-mounting photo album gift in 3 sizes
Satin hardback cover with metal corner protectors
Customise the front & back
Perfect for weddings, milestone birthdays etc
Hand bound in London, UK. 5 year guarantee
There's something special and cathartic about sitting down with a loved one, or simply taking some time out for yourself, to arrange your own photo album.
As you sift through old family pictures, or print new ones off, you're reminded of holidays, birthdays and other moments you wanted to capture. Our albums are printed with your unique designs on the front and back covers, giving you absolute creative control. This is ideal for creating bespoke wedding, baby and even holiday photo albums.
3 sizes to choose from
Square, landscape or portrait
Monroe satin hardback covers
Customise the front & back
Edge-to-edge full colour print
Cover designs printed onto Monroe satin
Distinctive texture, lustrous sheen
Self-mounting album
Thick Italian ivory coloured paper
Parchment tissue interleaves
Metal corner details
Optional classic presentation case
Comes with or without pack of photo mounts
Beautifully hand bound using traditional methods
Handmade in London, UK
5 year guarantee
Reviews for
Personalised Photo Albums
The photos on the album look lovely. I am a bit concerned the actual quality of the album isn't as special as I would have expected for such an expensive item but as it is a present I have not opened it up. I am hoping on Christmas day am going to be pleasantly surprised.

Really impressed - excellent quality, excellent customer service

Arrived within two days and was brilliant quality . On a sad note the addesive labels to stick the photos in were useless and I ended up buying double sided tape and making my own tabs . Photo album first class

Thank you for my lovely Wedding Album with my choice of wedding pictures for the cover. It's Brilliant just what i was looking for.
Photo Album UK Sizes
Small landscape scrapbook
21 x 16cm
Suitable for max 6x4" photos
Internal page size 20 x 15cm
30 pages / 60 sides

Medium portrait scrapbook
23 x 32cm
Suitable for max 8x6" photos
Internal page size 21 x 30cm
30 pages / 60 sides

Large square scrapbook
33 x 33cm
Suitable for max 10x8" photos
Internal page size 31 x 33cm
50 pages / 100 sides

Your customised photo album is self-mounting, so we also offer an optional pack of 250 double sided photo mounts. Acid free, they won't ruin your pictures. If this is for a special gift like 21st birthday or wedding, select for it to be presented in a classic black slip case for an elegant finish. Made using traditional hand binding techniques, your bespoke album is one of a kind. We're one of the few book makers to still use these methods, unlike many other companies who have adopted web and software applications. Crafted with the utmost care and attention, this is a gorgeous photo album gift for a loved one. We source the book blocks from Florence, Italy, ensuring they're super high quality, and then bind them by hand in London, UK. If treated with respect and care, your photo albums will last a lifetime.

Do You Have any Design Tips or Ideas?
The Monroe satin that your cover designs are printed onto is a woven fabric with a visible grain and slight sheen, so your design will look textured. We recommend bold text and larger images to produce the sharpest finish. Depending upon which size you opt for, the orientation will either be square, landscape or portrait, so bear this in mind when designing the covers. See images below.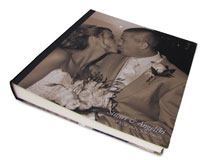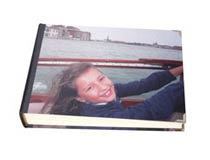 Create Photo Album For Various Occasions
Personalised wedding album
Rather than purchase the generic album from your photographer, why not design your own personalised wedding album? After you've received the photo prints, spend time with your new husband or wife organising the pictures in chronological order of the day, which is a nice way to present the photos to family and friends. Customise the hardback covers with your names, day of marriage and photo of you and your spouse outside the wedding venue for a nice touch.
Baby photo albums UK
Celebrate the arrival of a new baby by designing their very own album that the parents can fill with pictures as the little one grows up. This is a lovely Christening gift keepsake that can be kept in the family for years. Personalise with a special message that the baby can read when they grow up, and to show how much they're loved by so many people.
Holiday photo albums
Been on a once-in-a-lifetime trip? Spent months away from home travelling the world? Had the honeymoon of your dreams? Wherever you've been, make sure to create personalised album to feature and display all the best snaps. When you tell stories about your travels, this way you'll be able to help them visualise it too. Design the front and back with pictures of all the images that symbolise the country or continent for a real forget me not gift.
You may also like: