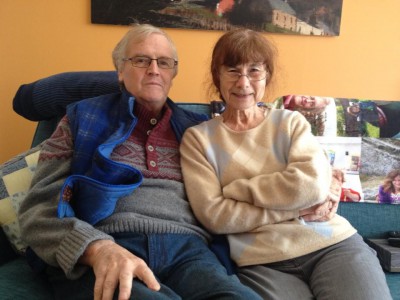 We were very grateful to receive the following review of our Photo Blanket from Eleanor, whose dad was in intensive care for 13 weeks:
'If you have a loved one in hospital, the photo blanket is a fantastic idea for a gift, and so much less clutter for the patient to deal with than if you leave photos in frames etc. It was such a cheerful and useful present, and I am sure it actually improved the quality of my dad's care when he was seriously ill.
The service from Bags of Love was great. The blanket arrived within a couple of days and it looked gorgeous. We did a photo collage with over a dozen pictures of home, holidays, pets, and all dad's family, as well as a picture of dad smiling when he was well.
This gift was great for my dad's memory and reduced his confusion and fears in intensive care. It also became a huge talking point for the staff. The nurses and doctors often stood with him chatting about the pictures on the blanket.
Three months on, my dad is well on the way to a full recovery. The blanket has washed beautifully and now lives on the back of my parents' sofa.'
– Eleanor
It's nice to know that our photo gifts can provide some comfort and reassurance to those who are experiencing a long stay in hospital. Being in hospital is obviously worrying and stressful for patients but it seems as though the photo blanket was a welcome distraction for Eleanor's dad. Because you can personalize our blankets with photos, a more homely feel can be given to a hospital bed, which can then help lessen the scariness of the situation. It's also great to hear that the pictures on the blanket helped Eleanor's dad to remember people when he was coming out of a coma. (You can see the blanket placed on back of the sofa).
Photo blankets make wonderful photo gifts for loved ones in hospital and can really help to put a smile on their faces.