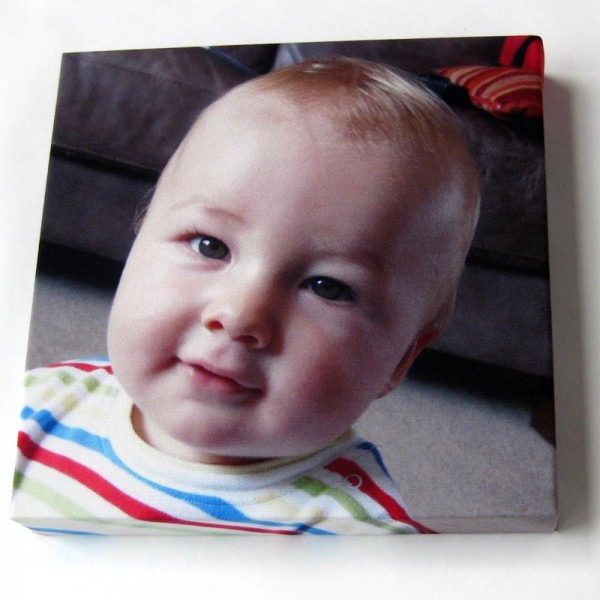 Think of it, your baby's little chubby face in all its glorious gorgeousness spread over a photo canvas, a room divider, roller blind or even a whole wall! You have to admit – they are worth it!
Photos canvases are affordable, and make use of that special, once in a lifetime photo in a creative way that everyone can enjoy. An extra large photo of your baby used as wall art will amaze family and friends and enhance your room décor.
Stages of your baby's life happen so fast, and by using those digital photos, you can keep them forever. Making an appointment with a professional photographer is all well and good, but let's face it, babies never do what you want them to at a time that suits you. Most people miss out by thinking the only way to get their baby's photo on a grand scale is by spending an awesome amount of their baby's inheritance on professionals, and this isn't the case.
You can use baby photos out of your own family album to enhance your room décor by having the little ones printed on roller blinds, folding screens and even custom wallpaper. Your photos can never be recreated by professionals, because being in a white bright place with people yelling at them to look this way and that – it just isn't natural for babies.
You can create your own professional baby photos by using simple tricks taught to professionals – with the aid of a torch and a white sheet as your background, you can have loads of fun, and by using a digital camera, you can click away at a convenient time to your baby without spending a fortune on photography fees.
Your baby's best bits will really standout in a large print – you can even give them as presents for grandparents as a photo canvas or a poster print. The choice is endless, and being your own photographic professional will give your baby something to smile about, and you will know that their smile is at you, and no one else.