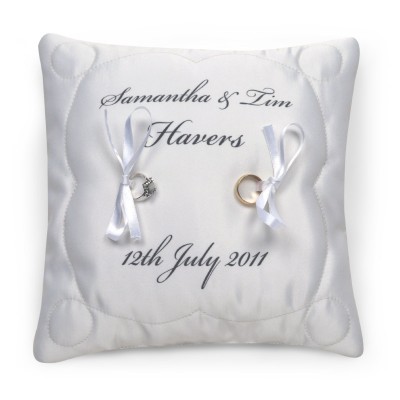 Personalised Gifts Made From Love
Love is a big thing here at Bags of Love as we cater for all types of love in the shape of personalised gifts. And what love is greater than the one between two people getting married? We try to develop as many wedding gifts and anniversary gifts as we can so that you can always buy brilliant personalised gifts for these love themed occasions. The latest addition to our wedding gifts range is the elegant personalised wedding ring cushion – a fabulous treat for the bride and groom on their big day.
Personalised Wedding Cushion
The wedding ring cushion is like the cherry on the cake for a wedding day. The best man normally hands over the rings when the time has come but why not make this part of the ceremony extra special by having a gorgeous white satin cushion made? This delicate and sumptuous cushion made from white duchess satin can be personalised with your names, the date and location of your wedding day. They are fantastic surprise wedding gifts for your wife or the best man and maid of honor can surprise the couple at the altar!
Memento Wedding Gifts
Personalised gifts are truly the right choice for weddings and anniversaries. A marriage is one of the most personal relationships so it needs to be celebrated with personalised gifts. Wedding gifts can be given in advance or as a surprise to the couple and this wedding ring cushion is no exception. It is hand sewn and embroidered and features satin ribbons which ties on the rings to the cushion. The wedding cushion is a fantastic wedding memento which the happy couple will cherish forever.