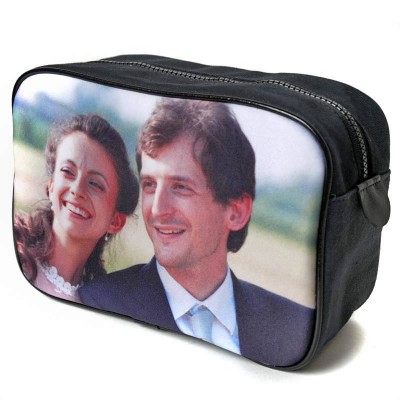 Stylish Personalised Presents For Men
The wash bag for men is one of the most popular personalised gifts for men and it is easy to see why. Men want stylish, useful personalised presents which they can show off with pride and luxurious leather wash bags personalised with a photo or image is tick all the boxes. Women buying wedding anniversary gifts for their husbands often make the right move of buying wash bag for men. As well as perfect wedding anniversary gifts the wash bag for men are also make ideal personalised presents for many other occasions.
Wash Bag For Men In Leather And Canvas
The wash bag for men comes in the choice of two different materials – canvas and leather. The leather wash bag for men are ideal personalised gifts for the man who enjoy the finer things if life or for the man who's never had a stylish wash bag! Both the canvas and leather wash bag for men have waterproof inner-lining and a chunky zip and leather zip tabs. One photo or even a smaller photo montage can be placed on the 9.5" x 5.6" wash bag for men. Due to its size one high resolution photo is the best option. Opt for a photo he loves or one that he most definitely will love!
2nd And 3rd Wedding Anniversary Gifts
If you are looking for the best personalised gifts as wedding anniversary gifts look to further than the wash bag for men. If you are celebrating your 3rd anniversary the leather wash bag for men make superb wedding anniversary gifts as the traditional theme for 3rd anniversary gifts are leather. And a canvas wash bag for men can be given as wedding anniversary gifts if you are celebrating your 2nd – as cotton marks a 2nd anniversary. But the wash bag for men make brilliant personalised presents throughout the year.