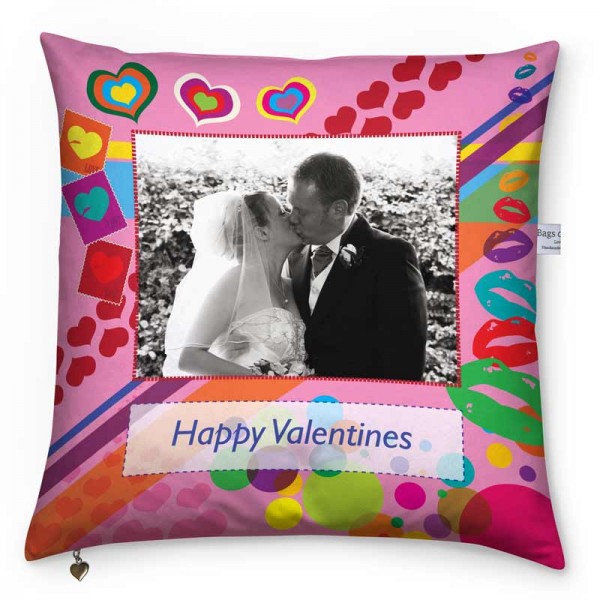 Have you seen our gorgeous Valentines Day Cushion especially designed for Valentine's day? As gorgeous as our original personalised photo cushions are (naturally, as they are personalised with your photos!) we have created super romantic Valentine's day designs to make the cushions the ideal Valentine's day gifts for your darling. We have created five exclusive designs for the cushions which you won't find anywhere else. The designs offer something for everyone.
The Candy design, above, is a colourful quirky pattern for someone who appreciates the fun things in life. The Love Letter design, below, is a more classic and elegant design for someone who likes their surroundings to be polished and traditional. As the finishing touch to the stunning design you add a digital photo of your choice and a line of text expressing how you feel. It's the three elements on these cushions that makes them superior Valentine's day gifts; a delightful love themed design, a personal photo and a bit of your feelings in the shape of text.
The final piece is a total assurance of your love for your partner. The fact that you've taken the time to choose a pattern, digital photo and text will be a loving gesture for Valentine's day. The icing on the cake on the original photo cushions is the silver heart at the end of the zipper, and don't worry this gorgeous little detail can be found on these Valentine's Day Cushions as well. For super special Valentine's day gifts for super special people you need not look any further. One or several of these cushions will make your partner happy and reassured of you love for them on February 14th.