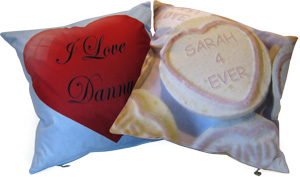 Did you disappoint your girlfriend this Christmas by not giving her that one thing she really wanted? Or have you just been as unromantic boyfriend lately and feel like you've got some making up to do? Then it's probably a smart move to get super cute and romantic Valentine's day gifts for her this upcoming Valentine's Day.
If you've left your girlfriend in an angry state recently by being late constantly or spending too many hours in the office then Valentine's Day 2011 is the date to make her happy again. Something that will make her happy is gift ideas that you've taken the time to design yourself.
As Bags Of Love are all about spreading the love we have developed two different styles of gorgeous personalised love heart cushions perfect Valentine's day gifts for her. Choose from the Big Red Heart or Love Candy Heart Sweets designs, then pick three short lines of text and colour for the front and back of the cushion.
Alternatively choose a cute photo for the back. Just image these gift ideas, pink love heart cushions that says "I Love You" on the front and have a photo of the two of you on the back. Your girlfriend will absolutely love it. You will be out of the doghouse for at least a week! And if you end up back there somehow at least you'll know the secret trick of how to get out once again…