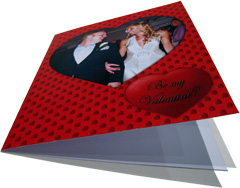 February is only around the corner which means that card shops will be jam-packed with Valentine's day cards very soon. Sending greeting cards with messages of love to your spouse, child, friend or someone you have a crush on in time for Valentine's Day is a cute and romantic gesture. But Valentine's day cards and Valentine's day gifts from shops are often impersonal and lack that extra touch of love. Hence adding personal photos to greeting cards make them greater than any pre-made cards sold in any card shop.
Our personalised greeting cards come in a pack of 12, 20 or 40 so you can create individual Valentine's day cards for all your loved ones. A photo of you and your significant other on your wedding day is great for your husband or wife. For your girlfriends send them greeting cards with a photo from a summer holiday or your graduation day. A Valentine's day greeting card with a photo of your new born baby will be much appreciated by the proud grandparents! If you are giving loved ones Valentine's day gifts personalised cards will make a great bonus.
Tailor-make each and every card for anyone you want to send a love message to by choosing different photos and greetings on the inside and outside of the card. The front of the card can say "Will you be my Valentine?" and on the inside add a more personal bit of text. If you are hosting a Valentine's day party this year these cards can make great invitations. Whatever quantity of greeting cards you order they come in a personalised presentation tin box so that you can keep the cards organised and tidy in time for Valentine's Day.