Personalise your weekend holdall with photos
Are you one of those people who just love to get away on short trips? Off for the weekend to discover new cities or even other countries, or just have a nice weekend with friends in a lovely cottage outside of town? Does that sound familiar for you?
Or could it be that you are one of the busy mums, combining a job and a family in perfect harmony and always carrying around everything in a large bag? Or do you happen to know one of these mums or dads?? Well, to travel in style, from town to town or from home to the playground, a personalised holdall with photos could be just the right thing.
Fantastic design made with your photos and text
Designing your own holdall couldn't be any easier. Just choose your size and the material (either leather or sturdy canvas) and then start with the design by uploading your images.
But it's not limited for uploading images. You can also scan your own designs, written texts or any other design you are thinking of and then upload it to the design page for the holdall. Once you are happy with the design, just proceed and we can start with the production as soon as you have placed your order.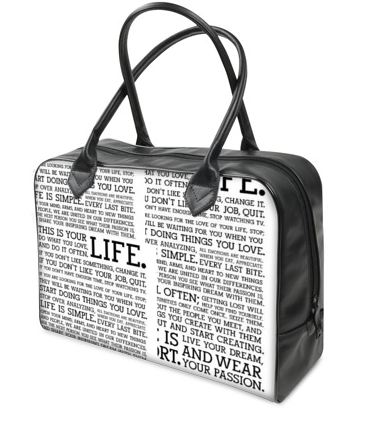 Mothers Day Gifts for busy Mums
The holdall will surely be your new companion for upcoming travels and trips… and for mums the new bag where everything (well, at least most of the important things) fits in and can be at hand anytime. Like our other Mothers Day Gifts it is the perfect gift from fathers they can create together with the children as a very special and unique gift idea.
To add the special touch to your Mother's Day Gifts you can also create personalised photo upload cards with a lovely favourite photo and add a personal message for the Mum in your life as well…