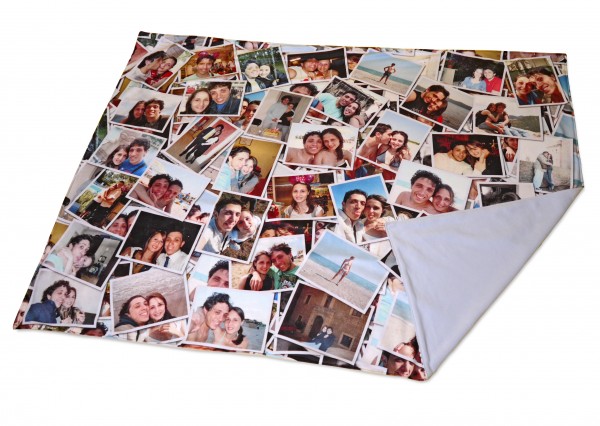 Keep up with love this Valentine's day thanks to Bags of Love. What's the most romantic thing you and your partner like to do? Most likely it's spending quality time together without any interruptions. So Valentine's day gifts that help you spend that romantic quality time together would be ideal right? That's why our photo blankets, which we also like to call The Love Blankets, are perfect as Valentine's day gifts. The photo blanket comes in different sizes but for Valentine's day we would suggest the large one – it's most suitable for cuddling!
The super soft polar fleece will keep you and your partner warm and cosy when you cuddle up in front of the TV or in bed. We encourage people to create personalised memory blankets by adding a photo montage of several photos to the blanket rather than just one photo. This is great for families; it makes the blanket a sort of family heirloom on display right in your living room. This is also great for couples who share a home. The memory blanket will display your love story so far and create a couple heirloom that represents your love. The Love blankets are simply perfect as Valentine's day gifts for him or her.
Alongside the photo montage love blanket we have a new design for the blankets featuring cute hearts. The background is filled with light-pink little hearts and in the middle we place a big dark-pink heart filled with text of your choice. With these gift ideas you can really tell your partner how you feel about them using your own words. This is a super cute and romantic Valentine's day gift which is superb for your girlfriend or wife.