We are extremely excited and proud to present our new personalised photo blinds. Handmade with great quality materials, our photo blinds are both impressive and logically function. Not only will our blinds keep the sunlight hidden when you want it to be, their rolling function makes it quick and simple to pull the blinds down, and put them back up. Another exciting feature of our roller blinds is when you create them on our site, you have a choice of making the blinds blackout or transparent.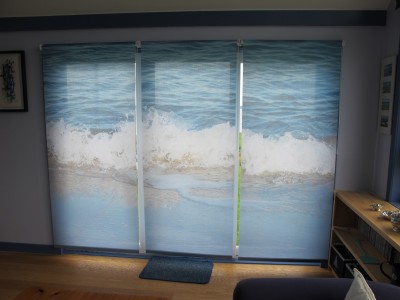 But most importantly, you can customise our blinds however you would like to create personal, beautiful home decor. Upload photos of family and friends onto https://www.bagsoflove.co.uk/blinds/photo-blinds.aspx, and we will print them in beautiful quality onto the blinds. You can also choose to upload lovely images of your choice such as pretty settings, artwork, or graphic designs you enjoy.
One great idea is to upload scenic images from great vacations like the setting on the blinds below. Not only will images such as these lend a tranquil ambiance to the room, the blinds will offer nostalgia from happy times spent with ones you care about. Our roller blinds are unique, personal, and beautiful–what else are you looking for to furnish your home with? So get to work! Creating the blinds will be fun and simple, and we promise fast delivery!