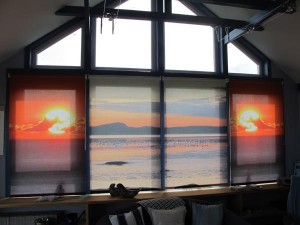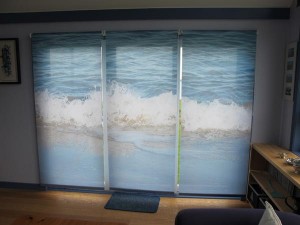 Here is a great example of a whole home being transformed with the help of our roller blinds, created from your digital photo! The owner of this house on the island of Islay have a total of nine roller blinds from Bags Of Love. From the sunroom to the living room and dining room, this home have an interesting and unique interior, created simply from a digital photo. Roller blinds can refresh your home or work as new ideas for your business.
The sunset roller blinds in the sunroom are particularly stunning if you ask me. Anyone who lives in London should get roller blinds like these so that rather than staring out your window and seeing cement and rain, it looks like your actually staring out on a beach! Perfect gift ideas from your photos for a city slicker who complain about their boring views from their flat or house.
The harmonic digital photo of pebbles, water, sunset and a lighthouse create a peaceful home environment that allow some light in, but just the right amount to not make your house too dark or too bright. The blinds are printed on both sides so it creates an interesting look on the exterior as well! Roller blinds are great if your home have a lot of windows and you feel the need for more privacy or to decrease the brightness. Roller blinds are also great ideas for your business. Clinics, salons, gyms, restaurants and offices can be refreshed with stunning blinds, creating a more intimate environment.