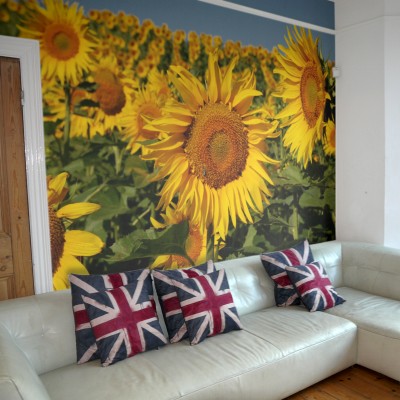 Use A Digital Photo To Make Wallpaper
When your home needs a quick fix to give it a more modern feel you can revamp it with the help of Bags of Love without making massive changes. And what's so cool about our furnishing is that you can personalise it using a digital photo for example. The photo wallpaper is the ultimate in personalised furnishing for your walls when you want to make a statement and really change things up. A digital photo on wallpaper can transform parts of your house into magnificent new spaces where you can be as creative as you wish. Use a digital photo, a drawing, a pattern or even your own artwork to create an inspiring atmosphere in your home.
Be creative!
There is nothing but your lack of imagination standing in your way when coming up with ideas for a photo wallpaper. You've got a great opportunity here to customise your home the way you want it. Artwork on the walls of the kid's room, the lounge, that dull hallway or even the staircase or outdoor patio will really make your house a home where you've put your personal stamp on your living area. It's all about who you are as a family. Do you love going on holiday to sunny beaches? Do you all practice sports, play an instrument or make art? Or do you all have totally different personalities and hobbies? Your family's interests whether they are the same or different can all be portrayed on photo wallpaper.
Go Large Or Small With Wallpaper
We can make wallpaper from your digital photo for small or large walls, all we need are the measurements and the image you want on the wallpaper. Larger wallpapers are brilliant for the living room or dining room where you entertain and socialise. But if you'd rather make a smaller statement there are also the wallpaper borders. These wallpaper borders are perfect for the kid's room or for a wall already with your colour preference but you want to add that extra touch to it. You can for example place photos in a line to make a sort of filmstrip border. Or for the kid's room have their names printed on the wallpaper border in quirky letters. However you want to make your statement make it bold and make it with wallpaper.