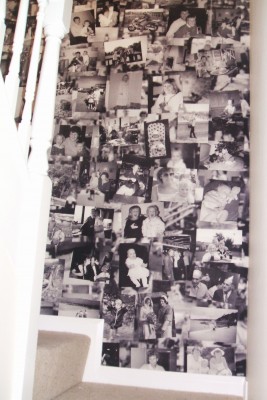 One of our customers, David from West Yorkshire, sent in some photographs of his personalised wallpaper he ordered from us at Bags of Love. He opted for our custom photo montage, created by our in-house graphic artists using images he sent in – and look how beautiful it is!
The wallpaper has been used on the landing of their home's staircase to give their stairs some flair. Images of family, spanning various generations from grandparents to grandchildren, gives their home a truly personalised decoration.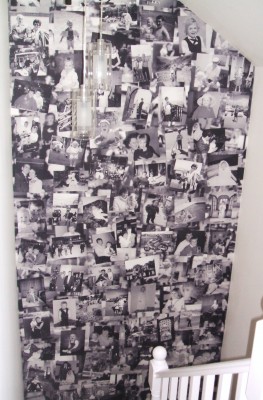 There is no mistaking that their home is for family to come together to celebrate holidays and special occasions. Plus, the gorgeous photo montage reminds them of their love and support for each other everyday.
To create you own photo montage wallpaper first measure the wall space you would like to fill. Our wallpaper generally comes in one square meter wide rolls. If you would like to make your own photo collage, you can do so online. But if you would rather one of our experts create the montage for you, we ask that you send the images you would like to use in via disk or zip file. We offer four types of photo montage – the two previously mentioned (self and custom), plus an automatic scatter and a custom photo frame. For more information of prices and details, follow this link.
We also offer single image photo wallpaper, that is also fantastic for personalised home decoration. Images of family, flowers, or landscapes have proved popular in the past.
Since ordering photo montage wallpaper is slightly more complicated than ordering a standard cushion, we are more than happy to directly correspond with you via email or over the phone. To get in touch, please visit our contact us page HERE.