Sending a personalised note, or attaching a thoughtful message to a significant gift, is one of the best presents you can give. Let your next loving outreach be in the form of photo upload cards! With photo upload cards, you can upload your favourite photo memory to our website and then, using our top-notch design template, create a unique photo card with a special printed text message on the inside.
Photo Upload Cards for any occasion!
Personalised photo upload cards are perfect for any occasion: Christmas, New Years, Thank Yous, Get Well Soon, Birthdays, Engagements, Anniversaries, Celebrations, Congratulations, Bon Voyages, or even a simple Hello. Whether you are attaching a personalised photo upload card to your Christmas presents this year, or using photo upload cards to send thank you notes to all your gift-givers after Christmas, it's never too early to start finding and uploading those priceless photo memories onto beautiful photo upload cards.
FREE Photo Upload Cards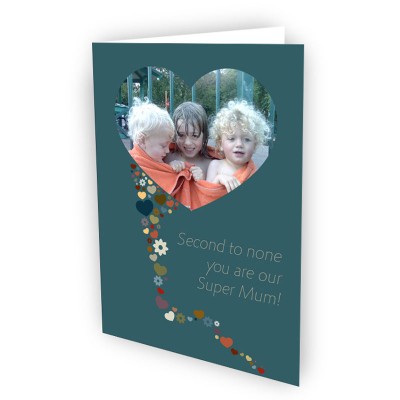 The photo memory you choose to print onto your photo upload card is not the only priceless aspect of this amazing offer. For a limited period of time, you can create and receive as many photo upload cards for free! That's right, both your printed photo memory and the cost of your photo upload card are literally priceless. Also, not only will your photo upload cards mean everything and cost nothing, but also the delivery time in which you receive your photo upload card is practically non-existent! After the moment you order your photo upload cards, they are printed and delivered to yours or your recipient's address within the same day.
This holiday season, give both personalised and appreciated notes with photo upload cards from Bags of Love.