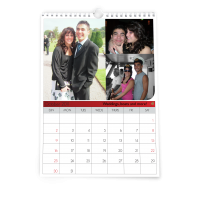 Believe it or not, the most popular and practical Christmas gift given every year is a calendar. Of course this makes sense, given that January 1st, the New Year is right around the corner from Christmas day. However, calendar shopping carries more pressure than one might imagine. I mean, you are giving someone the time-marker that they will look at everyday for the next 12 months. So, instead of fretting over which scenic countryside, or which pop culture icon to choose between, give a personalised photo calendar this year! Simply select 12 of your or your recipient's favourite digital photos, choose a calendar design online, and then we deliver your prestine photo calendars at a speedy Christmas delivery pace. Who doesn't want to enjoy a new beautiful image of their friends, family, and fond memories every month?! You cannot go wrong!
Speedy Christmas Delivery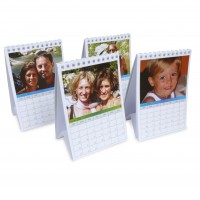 We understand the stresses that go along with Christmas shopping, which is why we offer only the speediest Christmas delivery services. Create and order your photo calendar on our website, and then, using our high-quality printing equipment and professional designer team, we will have your photo calenders printed and delivered to your doorstep within 1-3 days. Honestly, with high-quality photo calendars delivered at such high speeds, we're just trying to help out Father Christmas this year…
Christmas Photo Calendar Ideas
Photo calendars make perfect Christmas gifts for everyone on your shopping list. Since you are selecting from your personal photo collection, every Christmas photo calendar you create will be tailored to your recipient, with the special addition of your creative taste. Although you can customize photo calendars for anyone, here are a few ideas for those loved ones who will espeically appreciate a photo calendar. Grandma and grandpa, mom and dad, your girlfriend or boyfriend, all the important couples and significant others in your life will love a photo calendar with images of themselves and their family and friends. Another way to personalise a photo calendar is by choosing a meaningful image for every significant month. For example, if mom's birthday is in September, then include a stunning picture of mom for that month. Or if grandma and grandpa's anniversary is in April, then you could choose a vintage photograph of their early years for that particular month. If there is an annual family gathering or tradition, then include that too; be as creative and unique as you wish!