Personalising your bedroom with your favourite memories is definitely a very romantic and original way to enhance your best digital photos. There are loads of photo gifts ideas for adding intimacy, style and personality to any bedroom. The most popular photo gifts for your bedroom are: personalised wall paper borders, blankets, duvet covers, bedsheets and pillowcases. If your able to pick the right photos it is going to be really easy and fun to change the look of your room. Personalised wallpaper can be used to decorate any walls and considering that it could be also custom made you can have exactly the size you need. Personalised wallpaper borders are one of those little details that can really make the difference in any room.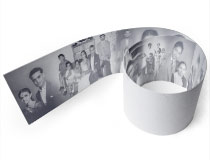 Gift ideas with the Greek
Personalised wallpaper borders don't necessarily need very high resolution photos. What is more important is the shape of the picture. This in fact will be "cut" to fit the shape of the personalised wallpaper borders; so it is important to keep it in mind when it comes to choosing photos to print onto wallpaper borders. For more information or advices about personalised wallpaper borders you can always contact us. If you intend to use personalised wallpaper borders to decorate your children's bedroom you could pick the pictures of his favorite cartoons, those of his heroes, or maybe the photo where he took his first steps into the world of sports, or those with relatives, and parents. All of them can be very nice ideas for decrating the bedroom of your children.