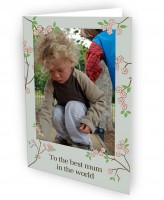 I am sure you are familiar with the last-minute rush out to the high street to buy a Birthday, Christening, Christmas or Thankyou card. We spend ages searching for totally unique and personal gift ideas because we desperately want to ensure that we get our loved ones something special and meaningful. However, as I am sure you are well aware, we often forget about the cards to go with them!
Why personalised greeting cards are so special
It is always handy to have our own collection of cards that we can use for a special occasion for someone we love. And what better way to make them smile than by having personalised greeting cards customised with your very own photos and messages? You can use different photos for each card in the pack and different messages inside each one too! Printed on high quality 280gsm silk, these personalised greeting cards will most probably not be thrown away – if they are personalised and heartfelt, they are sure to be kept.
The perfect partners to your amazing gifts!
The personalised greeting cards come in a presentation tin box that is very stylish and extremely handy for any small items once all the cards have been used and sent! Use a picture from your wedding day as a fantastic Thank you card, or perhaps a picture of you and your partner together for brilliant engagement photo cards to tell all your friends about your amazing news! These dazzling and essential partners to your thoughtful gifts are simply unparalleled by anything available on the high street. Personalised greeting cards are totally unique, so unleash your artistic side and design your very own special collection!