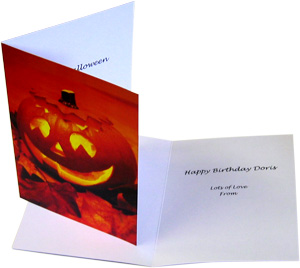 Greeting cards shops are leasing larger and larger retail spaces to keep pace with the broadening product lines ordained by greeting card manufacturers who now dictate the categories of new human relationships – not the other way around!
If there is a card on the shelf, you need to be find someone to send it to. The god mother of your second cousin will surely be offended if I don't acknowledge her step-daughter's birthday. At least that's what you are led to believe, so keeping a plentiful stock of personalised greetings cards for any occasion at short notice, is a good idea!
With our high quality greeting cards in packs of 12, 20 or 40 you can personalise them just the way you want them so you get perfect cards. You can get 20 identical thank you cards or 40 individual happy birthday, Christmas or Valentine's day cards to make sure you have gretting cards for every occasion. Your photos or illustrations and text will be added on the cards after your choice. A personalised tin box is also included in the price!
Personalised gifts made here in the UK and ready in one day beats any other greeting card shop! Design your very own cards in the comfort of your own home and have them delivered to your front door instead of rushing around on the high street trying to find perfect cards. Don't be caught out in the rain – stock up on greetings cards and it'll never be too late to relate!