Mother's Day is almost here!
Why not have a go at creating  a personalised photo card for mum this Mother's Day, with our easy to use online design system?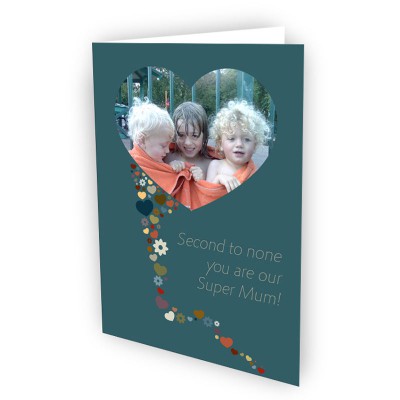 Sometimes, a gorgeous personalised card means more than any present ever could. You can choose whatever you want to feature on the card, be it a special photo, a montage of special photos or even a design, created entirely by yourself! Trust us, mum's appreciate more than anyone, when something has been designed specifically for them, using photos, which mean the world. So why not make her Mother's Day even more special and design her, her very own personalised photo card?
At Bags of Love, we have personalised photo cards available in standard A5 size, impressive A4 and super special luxury A3! Perfect for every special mama out there!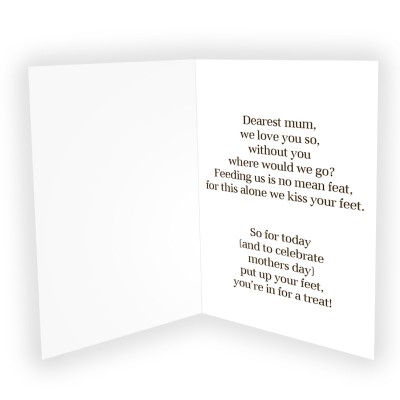 Our A5 cards have 10 beautiful design templates to choose from. You can then personalised the text and image on the front to display whatever you want! Then write out your message to your mum or, opt for the inside to be blank and you can fill it in by hand, once you receive it. Our favourite templates for Mother's Day are our Love Letters and Purple Hearts options – both classic and stunning! These lovely personalised cards can be ready and sent out on the same day! Perfect for last minute shoppers! Click here to design your mum her own A5 personalised Mother's Day card.
When you need a bigger card to show your affection (because sometimes size does matter!) then why not send your mum our handmade A4 size personalised card? Our full colour print A4 card comes in a gorgeous red envelope and you can either insert your message using our design system, or leave it blank and write your message to mum by hand. Because of the larger size of this handmade personalised card, you can have fun uploading several special photos and create a photo montage card, which mum will just love! Click here to design you mum a special A4 personalised card.
Finally, allow us to introduce you to our extra special, custom made A3 Luxury Personalised Card. This whopper of a card takes personalised greeting cards to the next level! Handmade by us, this stunning large card is made from a sturdy board and is covered in a fine satin fabric, which will feature your design and words. It also has black book cloth lining, has 4 printable areas and comes with a chic, handmade cream envelope. This giant personalised card is utterly unique – and that is before you customise it for mum! We will send your card to you in a lovely gift box, making this card a wonderful personalised photo gift. A super special card for a super special mum! Design one for her here.
As well as personalised cards. we also have hundreds of other photo gifts, which will make wonderful presents for Mother's Day. Have a look at our Mother's Day gift page and have fun designing something for her, which she will treasure always.
Bags of Love x