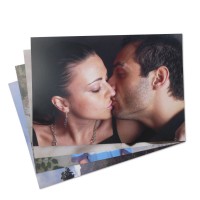 Excellent Quality Poster Prints
Do you have a wall in your bedroom, living room or kitchen that is just dull? Are you stuck for ideas about how to fill it with something bright and exciting? Fear no more! Because with personalised poster prints, your very own photos will be transformed into impressive quality posters that will bring life to your walls! Photo poster prints are so amazing for two very important reasons:
You will immortalise the memories that mean so much to you with this timeless gift.
Poster prints are also great wall art and look breathtaking on your walls, giving life to your home décor.
If that is not enough, if you buy 2 poster prints with Bags of Love you can currently get another one absolutely free! We can print a wide variety of sizes, including A1, A2 and A0 if you wish to go large, or even a pack of four A4 posters. Very good value and wholly personalised to your specific liking, poster prints are an exciting and novel way of jazzing up that dreary wall!
Go Solo or Create a Montage!
You can either get one stunning photo, maybe of your children eating ice creams or of your family at your Christmas celebration, or a collage of all your best pictures across the years. If you went on an amazing travel adventure to China last year, why not capture those memories of the beautiful landscape and lovely people with poster prints of your incredible shots? With 245gsm quality, tough paper and wipe clean finish, poster prints are the perfect gift ideas for your friends and family or even a great way to treat yourself and liven up of your home interior! They are great fun, easy to design, and fantastic to look at. So, what are you waiting for? Get creative, use your imagination, and make magnificent poster prints of all your favourite photos!