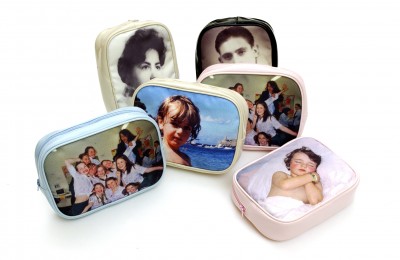 Personalised Gifts For Women
Personalised make up bags are one of our most popular personalised gifts for women. These little glamorous bags are adored by all women as they have that luxurious appearance with a personal touch. Make up bags are useful bags which a woman's bag collection is not completed without. If you are unsure what to buy for a woman make up bags will guarantee satisfaction! They are perfect personalised presents for women for any gift occasion any time of the year – from summer to winter.
Dazzling Make Up Bags
These charming make up bags come in four lovely colours – black, pale blue, soft pink and ivory beige – and are of the highest quality. Choose from vinyl or leather material for the overall bag (the print sides are satin), both ways the make up bags are lined, fully piped and have a heart shaped puller zip close. The vinyl gives off a glossy appearance and the leather a smooth and luxurious presentation. Personalised gifts for women have never been so dazzling yet personal!
Photos On Make Up Bags
The make up bags are perfect personalised presents for any woman at any occasion – it all just depends on what photos you choose. For your girlfriend pick a flattering photo of the two of you to show your commitment to her. For your wife on your anniversary add a romantic photo from your wedding day to celebrate your love. And for the woman who loves her pets just add some adorable photos of her cats to really make her birthday special. Baby photos on make up bags are ideal for new mums or as baby gifts and Christening gifts.
Pop Art Treatments And Graffiti Print
Alongside adding fantastic photos appropriate for the gift receiver you can also add Pop Art treatments to the photos for make up bags or simply go with text. The Pop Art treatments commonly used for our canvas prints can be even be added to the make up bags. Your photos can be turned into the styles of Warhol, Banksy or Che and then printed on the make up bags. The funky graffiti print can also grace the cover of the make up bags with a short phrase or name in a vibrant colour on a black canvas material.